New home for renewables trade body spells out history of thriving sector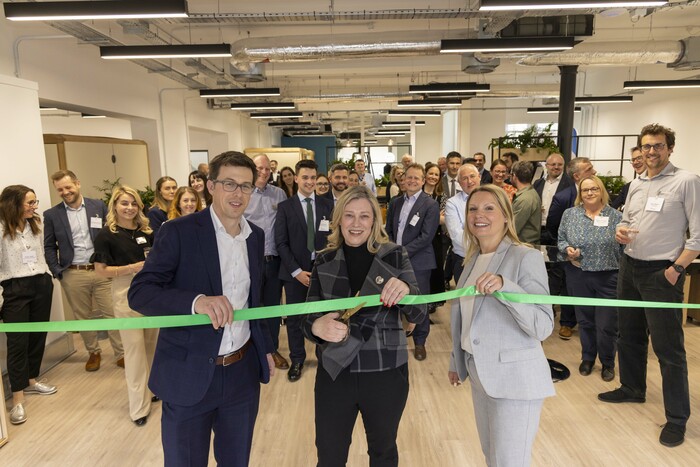 The history of renewable energy in Scotland is celebrated in a new office for industry body Scottish Renewables which opens this week in Glasgow.
Representing around 320 members involved in all green energy technologies, the trade body has moved to new premises on St Vincent Place.
Powered entirely by renewable electricity and heated with an air source heat pump the building is the oldest in Glasgow made of red sandstone and was the offices of the Glasgow Evening Citizen from 1889.
Meeting rooms and pods have been installed for exclusive member use and are named after Scottish renewable energy firsts while a giant specially commissioned timeline of the industry has been created for the kitchen.
The firsts which are celebrated include:
Fort Augustus, where the first hydro-electric scheme in Scotland to supply electricity to the public was installed in 1890
Queens Quay, after the UK's first large-scale high temperature water source heat pump development, opened in Clydebank in 2021
Beatrice, after the Beatrice Demonstration Offshore Wind Farm, Scotland's first offshore wind farm, which went live off Caithness in 2007
Scotland's first solar farm, opened in 2013 at Edinburgh College's Eskbank campus in Midlothian.
Energy Minister Gillian Martin MSP, who officially opened the office yesterday (May 5), said:
"Scotland has the skills, talent and natural resources with which to become a global renewables powerhouse and enormous opportunities lie ahead for our renewables sector, our workforces and our economy.

"We must work collaboratively and innovatively in order to fully capitalise on our energy transition. Scottish Renewables continues to play an integral role in this journey, and I was very pleased to see their new home, which reflects the growing profile and significance of our thriving renewables industry."
Scottish Renewables Chief Executive Claire Mack told how the new premises "provides the profile and space we need as we embark on the next phase of the transition to a clean energy system". She continued:
"Scottish Renewables is now representing more members than ever before, up around 15% on two years ago, and our team is growing to service that increased demand, with a new energy transition and supply chain team launched last autumn (2022).

"The new office gives us the opportunity to host more of our members, who're increasingly working flexibly and looking for accessible workspace in the city centre.

"It also gives us the opportunity to challenge those who believe renewable heat solutions can't work in old buildings: we can now say we're occupying the oldest red sandstone building in Glasgow and look, we've got a heat pump. Those are the kinds of positive stories with which this growing industry is filled and we're delighted to be able to write a new chapter in Scottish Renewables' history on St Vincent Place."
Scottish Renewables members who want to book meeting rooms, pods or hot desks in the new office can do so by logging into their account on the organisation's website then using integrated hot desk booking software.
Notes
A media release on the launch of the energy transition and supply chain team is available on Scottish Renewables' website.
More information on the building in which Scottish Renewables is now located can be found here.
Scottish Renewables is the voice of Scotland's renewable energy industry. Our vision is for Scotland to lead the world in renewable energy. We work to grow Scotland's renewable energy sector and sustain its position at the forefront of the global clean energy industry. Scottish Renewables was previously located at Tara House on Bath Street, which it had occupied for a decade.