Six pumped storage hydro projects to create up to 14,800 UK jobs, new report finds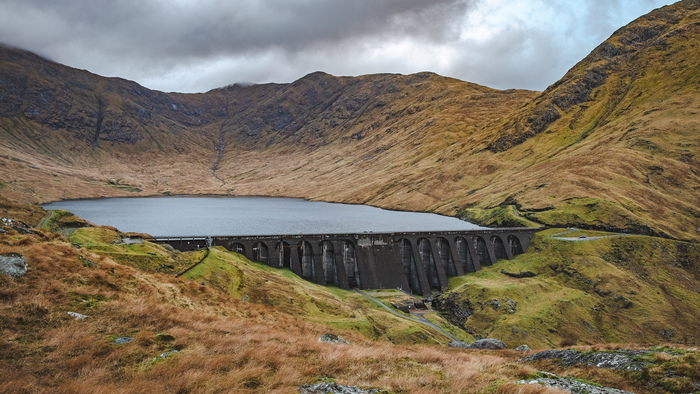 Six projects currently under development in Scotland will more than double the UK's pumped storage hydro capacity to 7.7GW, create almost 15,000 jobs and generate up to £5.8 billion for the UK economy by 2035, a report by Scottish Renewables and BiGGAR Economics has found.
'The Economic Impact of Pumped Storage Hydro' studied the economic impact of six pumped storage hydro projects currently in development in Scotland. These projects, if constructed, would add 4.9GW to the UK's existing capacity of 2.8GW to go over halfway towards achieving the 15GW of capacity that is expected to be needed by 2050.
Scottish Renewables, the voice of the renewable energy industry in Scotland, is calling on the UK Government to urgently deliver the measures it has promised to enable investment in large-scale, long duration energy storage so developers can deliver the existing pipeline of 'shovel ready' pumped storage hydro projects.
No pumped storage hydro facility has been commissioned since 1984.
Pumped storage hydro is similar to a giant battery as it can store energy and then release it when needed. Each facility uses two water reservoirs at different elevations and power is generated when water moves down from one to the other passing through a turbine. When demand for electricity is low, water is pumped back up to the upper reservoir where it is stored for future use.
To meet the UK Government's net-zero targets substantial increases in clean energy are required. However, since many technologies, such as offshore wind, are variable in their output, storage assets will be essential to support demands placed on the electricity network.
Many of the best locations for pumped storage hydro are in the north of Scotland, where there are plans for a significant increase in the generation of clean power with the construction of onshore and offshore wind farms. Pumped storage hydro will improve the electricity network by:
reducing the curtailment of renewable energy
reducing the need for grid reinforcement
increasing energy security
reducing consumer bills
Significantly more projects than the six studied for this report will need to be delivered in order to reach the 15GW of storage capacity that the UK Government expects to be the minimum amount required to meet the needs of the energy system in 2050.
The report found that once these additional projects are in development pumped storage hydro will generate up to £14.8 billion for the UK economy and create up to 9,400 jobs annually.
The six projects studied in the report are the Cruachan Expansion and Balliemeanoch, both in Argyll and Bute, Corrievarkie in Perth and Kinross, Glenmuckloch in Dumfries and Gallowayand Red John, Coire Glas, in the Scottish Highlands,
Andrew MacNish Porter, Policy Manager for Economics and Markets at Scottish Renewables, said:
"From this report we know that pumped hydro storage is uniquely placed to deliver socio-economic benefits to communities across the UK and, as an established and proven technology, it will play a crucial role in achieving the UK Government's net-zero ambitions and delivering energy security for consumers.

"However, an investment framework is needed to secure the massive capital investment required for these projects. We therefore urgently need the UK Government to clarify its support for pumped storage hydro and deliver the required policy support to unlock the huge value these projects promise to deliver."
'The Economic Impact of Pumped Storage Hydro' report by Biggar Economics, a leading independent economic consultancy, was jointly funded by Buccleuch, Drax, Foresight Group, Intelligent Land Investments Group and SSE Renewables.
Finlay McCutcheon, Director of Onshore Renewables (Europe) at SSE Renewables said:
"The case for pumped storage hydro is clear: as evidenced in BiGGAR Economics' report, projects including SSE Renewables' Coire Glas will not only play a critical role in decarbonising the UK's electricity system and reducing consumer bills but will help unlock billions of pounds of investment and create thousands of skilled jobs across the country.

"We stand ready to invest in this vital technology and call on the UK Government to urgently confirm its intention for a market investment framework to facilitate the deployment of pumped storage hydro projects so that the sector can reach its vast potential."
Mark Wilson, CEO of Intelligent Land Investments Group, said:
"Pumped storage hydro is the key to unlocking a cleaner, more resilient energy system for the UK, while generating significant economic benefits. With the potential to create over 8,000 jobs annually and an estimated investment of up to £21 billion, it's time for the UK government to take action. By introducing policies that support long-term investment signals, such as 'cap and floor', we can unlock the full potential of this technology, enhance energy security, and accelerate our transition to net-zero."
Ian Kinnaird, Director of Scottish Assets at Drax, said:
"Building a new generation of pumped storage hydro plants is vital to unlocking Scotland's wind power potential and creating highly-skilled green jobs for our communities. That is why it is so important that the UK Government progresses its plans to introduce a new policy framework which will encourage and support private investment in these projects. With the right support in place, Drax stands ready to invest more than £500m in expanding our iconic Cruachan plant on the shores of Loch Awe."
Notes