Renewable energy sector celebrates Scotland's workforce of the future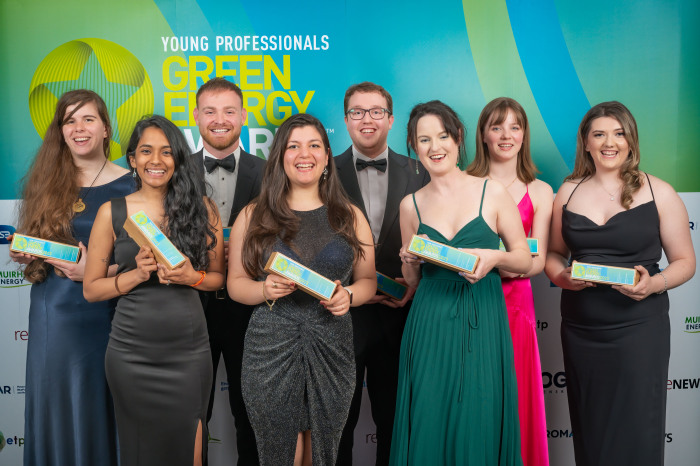 Scottish Renewables' Young Professionals Green Energy Awards last night (April 27) recognised the next generation of Scotland's renewable energy leaders.
The black-tie event at the Grand Central Hotel, Glasgow, saw 300 guests attend to celebrate and recognise those who will be driving the evolution of Scotland's future energy system.
The annual awards, hosted by industry body Scottish Renewables, has eight categories to highlight those who are pioneering new ideas with the drive and ambition needed to change the renewable energy industry for the better.
This year's winners include:
Personal Improvement Award winner Haidee Barclay of Ørsted who took an unusual route into the industry, moving from a six-year career as a hairdressing stylist to standng atop a wind turbine as an Apprentice Wind Turbine Technician.
Colin Thompson of SSEN Transmission, who took home the Engineer Award for championing the use of innovative route analysis software to deliver a solution in four months rather than the 12 months it would have traditionally taken.
Julie Le Négaret, of Gravitricity, was this year's Innovator Award winner. Julie impressed judges by playing a key role in the delivery of Gravitricity's energy storage concept demonstrator project in Leith.
Scottish Renewables is the voice of the renewable energy industry in Scotland.
Claire Mack, Chief Executive at Scottish Renewables, said:
"It is truly an honour to once again be able to showcase the next generation of young talent who are leading the way in Scotland's renewable energy industry. It is incredibly important that Scottish Renewables recognises the young professionals who will continue our drive towards a clean, green future.

"The future is bright for those who want a career focused on green energy. Scotland's renewable energy industry already supports more than 27,000 jobs and we know that about 22,000 undergraduates are studying renewables related subjects at college or university.

"It is truly reassuring to know that the innovation and skills of the people taking part tonight will play a key role in delivering on our clean, green, net-zero ambitions.

"Congratulations to all of tonight's winners. To win a Young Professionals Green Energy Award is a wonderful achievement and we hope they can go on to continue the excellent work they have already achieved in the industry."
Each winner of a Young Professionals Green Energy Award will be put forward for the Young and Inspiring Award at The Scottish Green Energy Awards later this year.
The full list of finalists is available below:
Academic Award, sponsored by ETP: Dr Desen Kirli, University of Edinburgh
Analyst Award,sponsored by Ocean Winds: Sharanya Kumaramurthy, Energy Industries Council
Culture Change Award, sponsored by Stromar: Lauren McIntosh, Xodus
Engineer Award, sponsored by ESB: Colin Thompson, SSEN Transmission
Innovator Award, sponsored by Muirhall Energy and WWS Renewables: Julie Le Négaret, Gravitricity Ltd
Personal Improvement Award: Haidee Barclay, Ørsted
Professional Service Award: Ellis Laird, Genius Energy Lab Limited
Project Development Award, sponsored by Fred. Olsen Renewables: Chris Coates, Downing Renewable Developments LLP
Ends
Notes:
The Young Professionals Green Energy Awards is sponsored by ETP, Ocean Winds, Stromar, ESB, Muirhall Energy, WWS Renewables, Fred. Olsen Renewables and BlueFloat Energy | Renantis Partnership.
Photos from the event are available are available here.
Interviews with winners can be arranged. Please email Ewan McInnes, Media Manager at Scottish Renewables, with enquiries.
More information about the awards is available here.