Why the world's watching Scotland's clean energy industry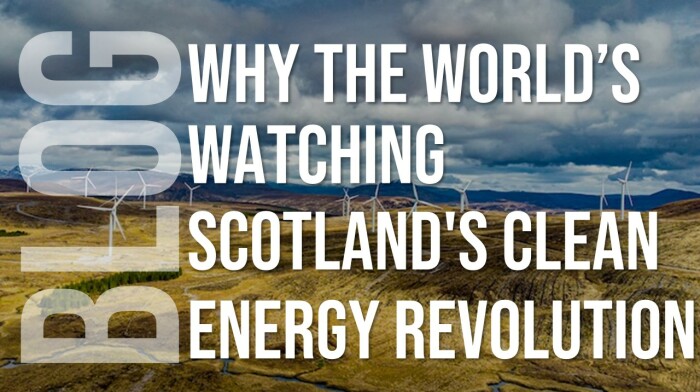 Everyone loves an "I told you so" moment.
I've had the pleasure of two of them in the last fortnight, and I will freely admit that they are incredibly satisfying.
They came when two conversations reinforced what has been key messaging for Scottish Renewables in recent years.
One showed that the world really is watching how we are tackling climate change - and aspiring to emulate us.
The other showed that the skills we are building here as we develop our renewable energy resource are in demand across the globe.
The first of those self-affirming conversations was with Californian university Professor George Busenberg at our Planning Conference in Glasgow last month.
George - an affable, self-effacing academic who sucks up knowledge like a sponge – is in Scotland for five months solely to study how we've grown the country's renewable energy industry.
His interest? He wants to take what we've done back to California - the world's fifth-largest economy - and teach his students about our journey so they can replicate it.
George, an Associate Professor at Soka University of America, says:
"Scotland has an extraordinarily diverse set of renewable energy sources which could be scaled up not only within Scotland, but in many other countries across the world.

"The process of developing a new kind of economy that reduces our carbon emissions into the atmosphere will involve many experiments as we scale it up.

"The way to learn is to plan, implement and observe what happens, and then you adjust as you go, and it's valuable to have a pragmatic successful example in operation. That is why I came to Scotland. It is ideal for the purpose of studying the reality of an increasingly renewable society.

"We are speaking of the reengineering of industrial civilisation away from the legacy of fossil fuels - slowly, not quickly – into a new kind of civilisation that will depend on other sources of power that do not emit as much carbon and this will be a long road in the same way the industrial age, driven by fossil fuels, was a long road."
The second conversation was during the lunch break at a meeting of Scottish Renewables' independent Board last week.
We try to ensure that the Board make-up reflects the interests of our members, and it's always contained strong characters who can push us to do more, think more and achieve more.
Director Clare Lavelle is Energy Advisory Leader at international sustainable development consultancy Arup. The company has more than 18,000 specialists, working across 90+ disciplines, with projects in over 140 countries, and Clare's job is to lead on energy in Scotland. She tells a remarkable story of success which perfectly reinforces what we've been saying for a while now.
Clare explains:
"I've been with Arup for almost ten years and what I've seen in that time is an increasing focus on Scotland as the place to go for knowledge about renewable energy and climate change mitigation.

"There is a real appreciation from Arup's global offices that Scotland is at the front of the transition to a clean power system, and my colleagues abroad want to learn from what we've done.

"The energy part of the business in Scotland is our fastest growing by far, and we're not only working on projects in Scotland, we're advising Arup's clients across the globe who want to find out how Scotland has done what it's done - triple its renewable power generation capacity in ten years - and how we're handling the appetite to do so much more, for instance with up to 30GW of offshore wind, the world's most ambitious pipeline."
Together, Clare and George tell a joined-up story - what we in the communications business call a narrative.
They're both from outside the UK (Clare hails from Ireland) and they've both been attracted here to work in (or study) our energy industry.
And they're both helping people in other countries learn from what Scotland is doing. In a sense, they're collecting the knowledge we're building and exporting it, albeit indirectly.
As renewables grow in Scotland, we're only going to be doing more of both: attracting talent and marketing the knowledge we have overseas.
The world is indeed watching, and the successes of this industry should be a source of pride for everyone in Scotland.
Blog by Nick Sharpe, Director of Communications and Strategy