An inspirational year of outstanding contributors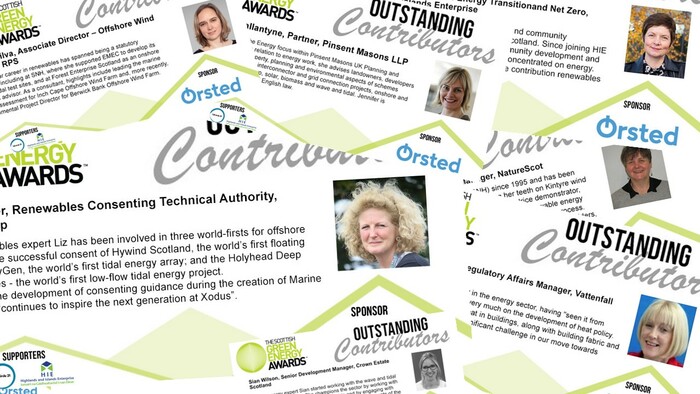 This year's Scottish Green Energy Awards saw the culmination of a year's drive to encourage more women to nominate for one of the top accolades: the Outstanding Contribution Award.
With the most recent female winner being the renowned Judith Patten, way back in 2012, category sponsors Highlands and Islands Enterprise and Scottish Renewables were keen to make sure this year's judges had as wide a range of worthy individuals available to choose from as possible.
Working with Orsted, we launched the Outstanding Contributors Campaign to showcase women who're putting renewable energy firmly on the map.
Each month we chose one inspirational woman to highlight on social media, then asked the renewable energy industry to nominate their own stars for the Outstanding Contribution Award.
On the night, Shepherd + Wedderburn's Patricia Hawthorn was chosen as the worthy winner. Here, we bring together a number of the Outstanding Contributors Campaign's motivational stars and once again reflect on their achievements.
January's Outstanding Contributor was eventually to become our Scottish Green Energy Awards winner: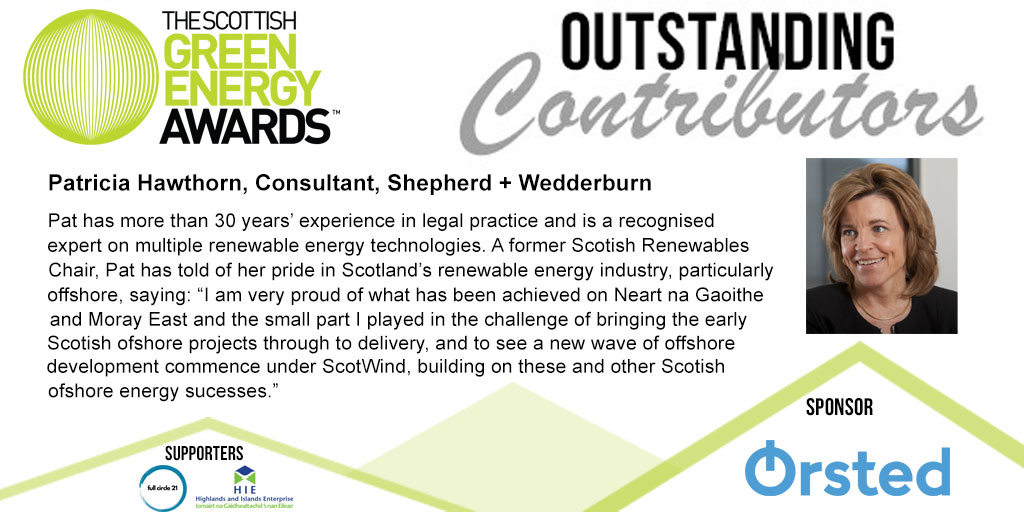 NatureScot's role in consenting marine development was highlighted in February:
Highlands and Islands Enterprise's Audrey MacIver featured in March: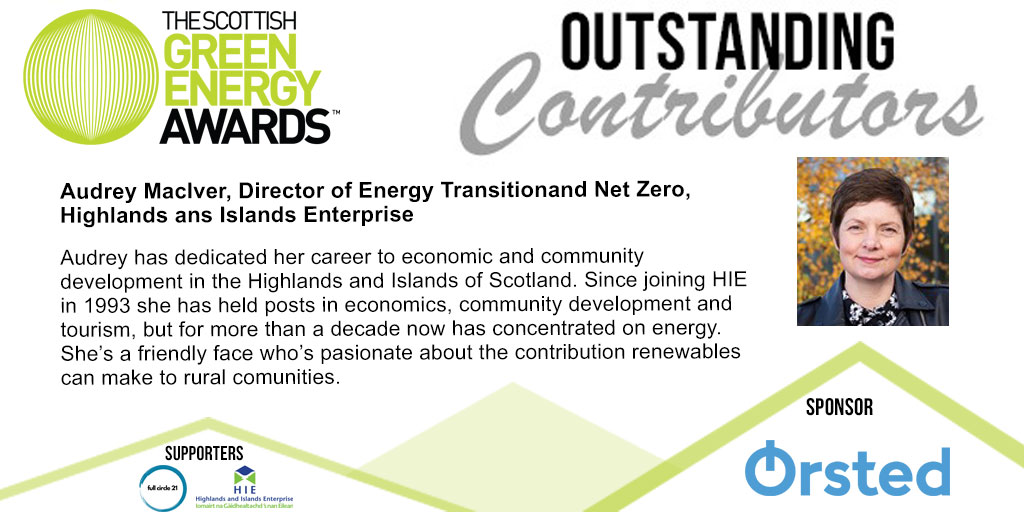 Crown Estate Scotland's Sian Wilson was part of the Outstanding Contributors Campaign from the off, supporting our efforts alongside Full Circle 21 co-founder Isla Robb: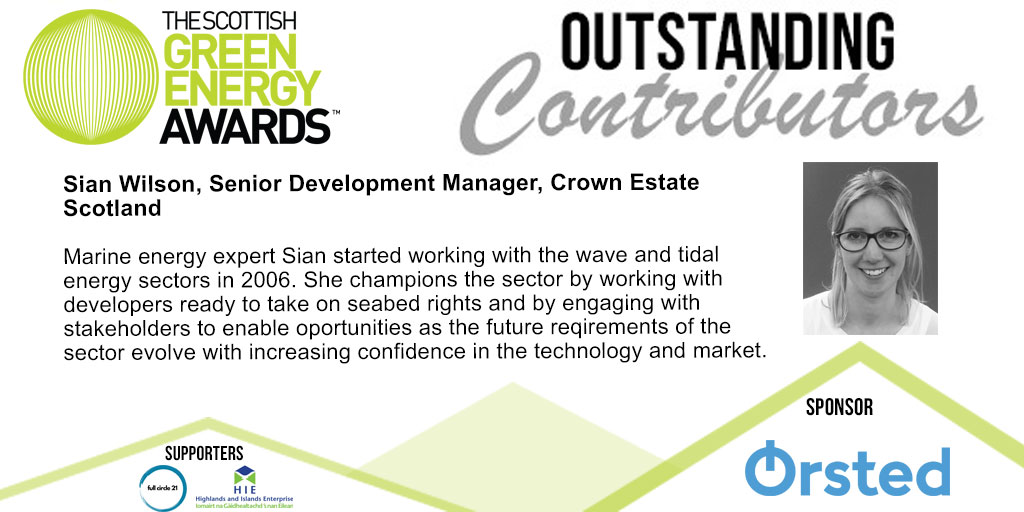 With heat rising up the agenda, Vattenfall's Carol Aitken represented this vital part of our decarbonisation journey: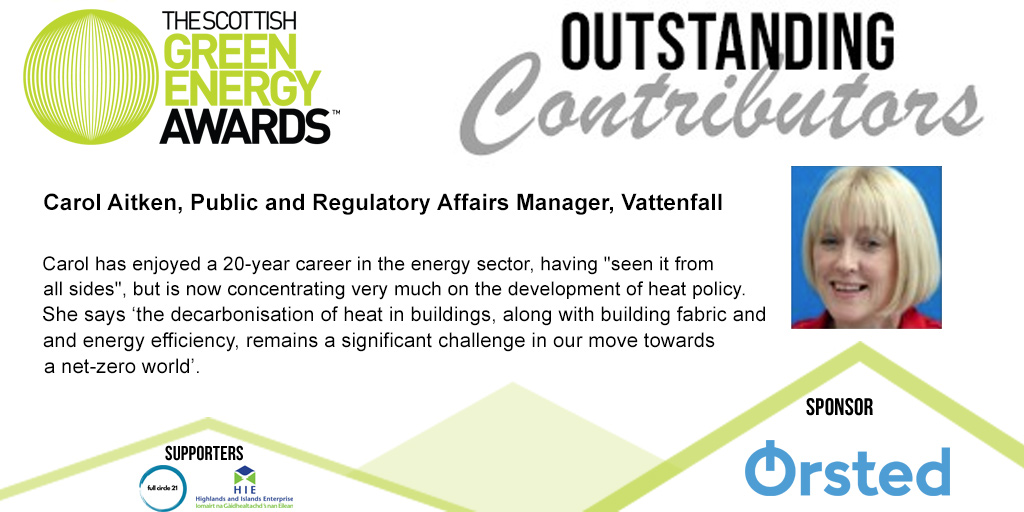 June's outstanding contributor has a wealth of knowledge of offshore development: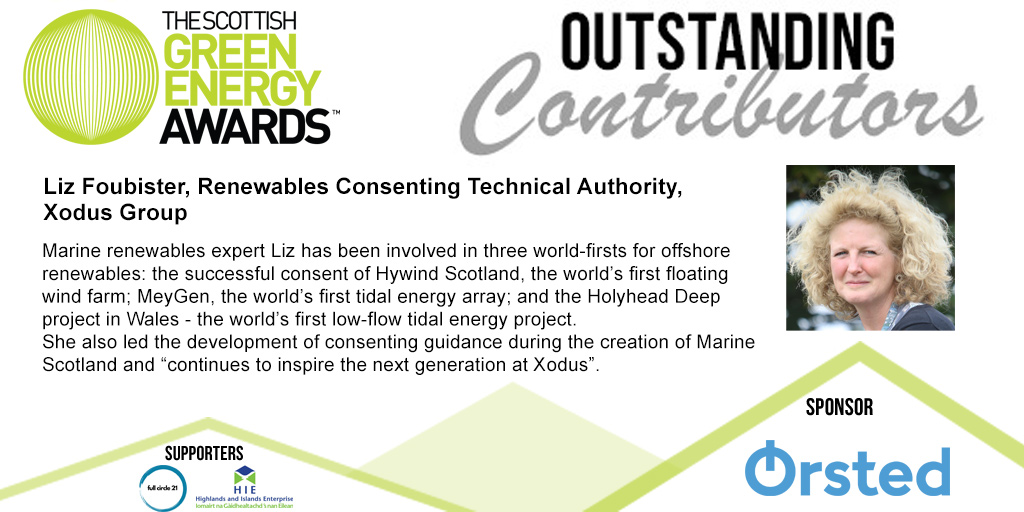 Scottish Renewables Board member Jennifer Ballantyne's planning expertise was highlighted in July: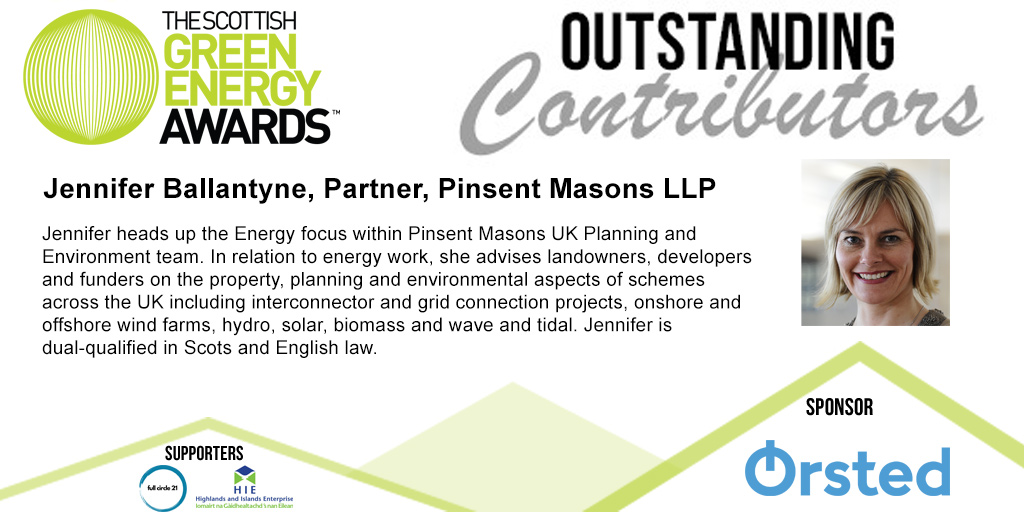 A wide and varied career for Ruth De Silva was showcased in August: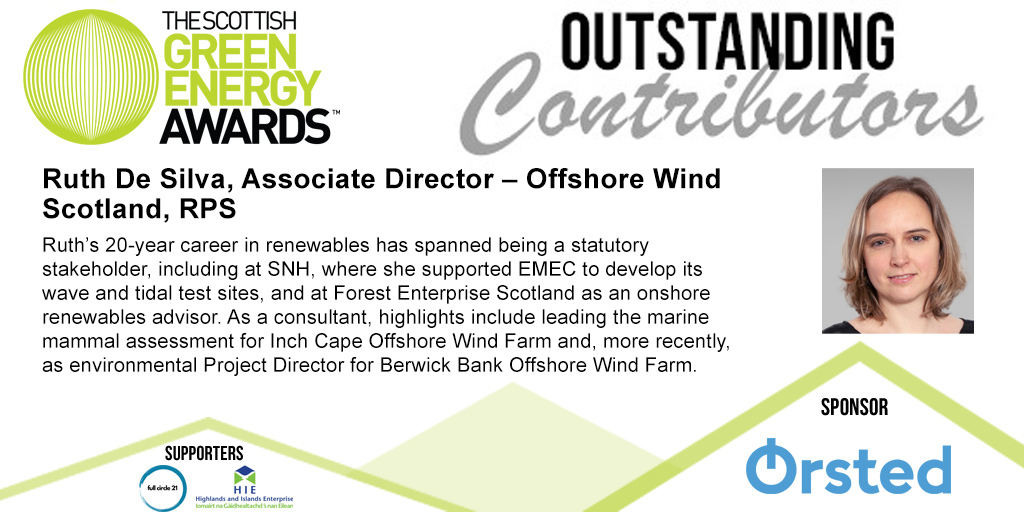 Our next outstanding contributor is "a proactive ambassador for women in engineering" – just the kind of person the campaign sought to spotlight: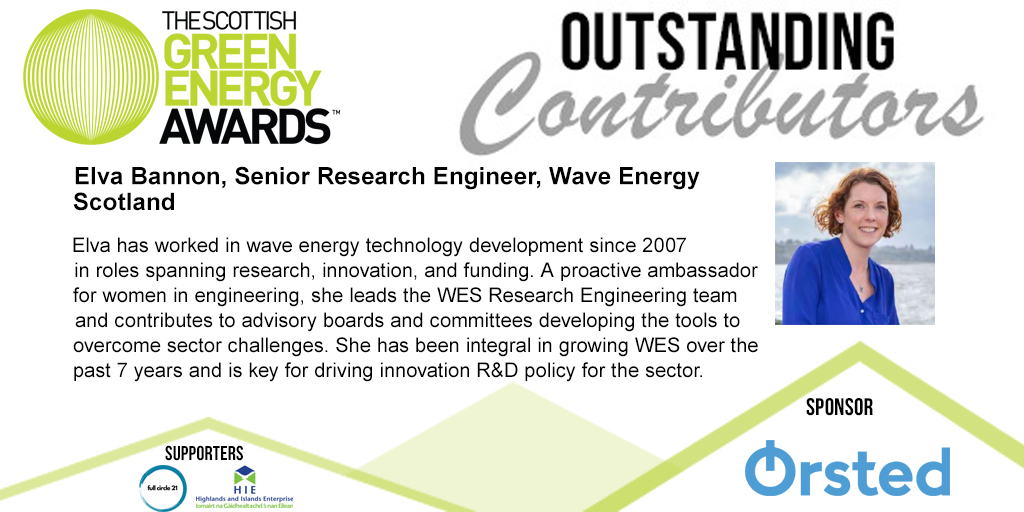 The interactions between wind turbines and aviation are Anne Mackenzie's speciality: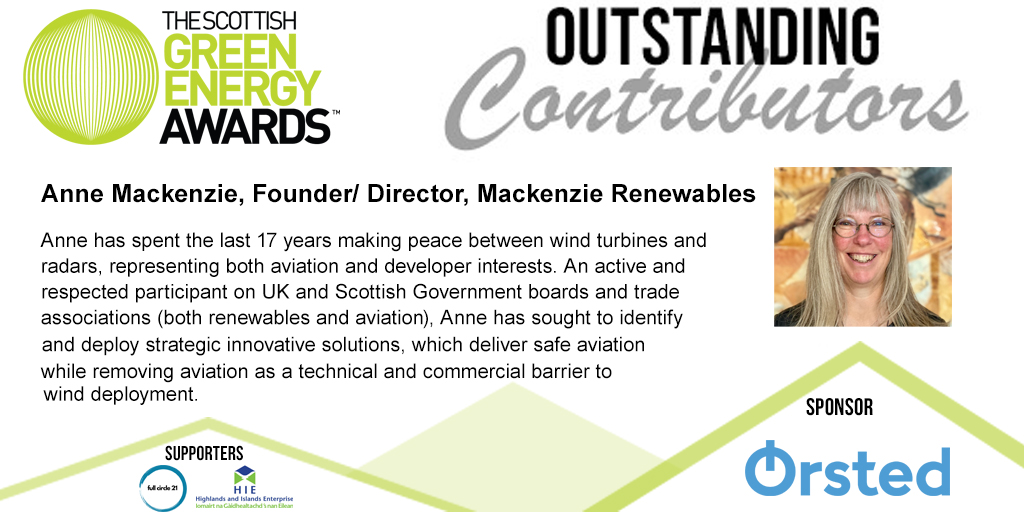 With the Scottish Green Energy Awards in December and all outstanding contributors being nominated, RWE Renewables' Nicola Crawford-Percival was our final candidate in November: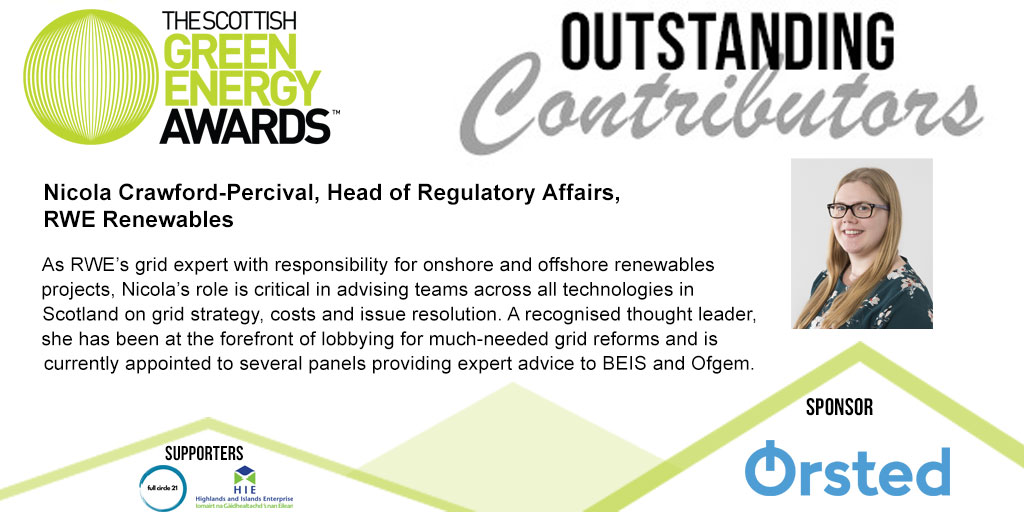 Looking back at the Outstanding Contributors Campaign, Scottish Renewables' Chief Executive Claire Mack said:
"Our industry is home to a tremendous amount of talent, but in the past we haven't seen the full breadth of that reflected in the nominations we've received over the years for the Outstanding Contribution Award at The Scottish Green Energy Awards.

"This year the Outstanding Contributors Campaign changed that, and for the first time in a decade I was delighted when we were able to reveal a female winner on stage on December 1 and one who herself has been a champion for diversity in all its forms though her industry leadership and professional work.

"Once we started exploring the possibility of doing something special to highlight the contribution women are making to the success of the industry it was only a matter of time until we were joined by like-minded organisations, so I'd like to thank Orsted, Highlands and Islands Enterprise and Full Circle 21 for their support through the year.

"Patricia Hawthorn is a worthy winner and hopefully the campaign, and her wonderful words from the stage at the awards, will mean we see more women nominated for the Outstanding Contribution Award next year and in future."
Ruth Hart-Leverton, Head of Communications – UK at Orsted, which sponsored the Outstanding Contributors Campaign, told how it "gives us a snapshot of the wealth of talent we already in the industry today and highlights the opportunities for future generations".
She continued:
"We are delighted that our sponsorship has helped to shine a light on the incredible women in the industry.

"In order to achieve our aims for a clean, secure and cost-effective net-zero, it's vital that the energy sector has diversity, equity and inclusion at its core. By encouraging and nurturing different perspectives, the industry can strengthen its ability to be innovative and continue to deliver on our collective commitments towards a cleaner energy system."