Scotland's Renewable Energy Roadshow - bringing COP to the people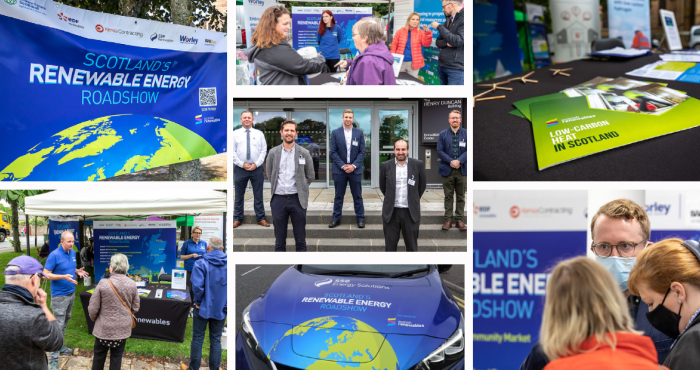 The summer of 2021 will be remembered for many things, not least the tender return to something resembling normality. For many, it was the first opportunity to meet friends and colleagues following a very difficult time indeed.
The summer also marked the countdown to the much anticipated COP26 summit in Glasgow, which was duly marked by our roadshow initiative to ensure communities throughout Scotland were able to discuss and engage in this crucial event. A plan was hatched to hit the road and take COP to the people.
Five locations were identified to host six events, three of which would be public-facing and three for the renewable energy industry to reconnect. Scotland's Renewable Energy Roadshow was off and running.
In this concluding blog in Scottish Renewables' Year of COP series, the ambitious campaign has been appraised by those who witnessed the coming together of industry leaders, politicians and local communities under the collective banner of renewable energy.
First up
Hannah Lawson, Business Development Specialist at Worley, spoke at the first industry event which was held in the Nigg community hall overlooking the Cromarty Firth.
"It was my first physical event back post-Covid, so it was great to be around people again. And it was clear everyone else was delighted to be back too. The sun was shining and we were able to do most of the event outside."
The event attracted an enthusiastic audience many of whom enjoyed the simple pleasure of being in each other's company and provided a platform from which the renewables sector could promote itself now and in the future, as Hannah explains:
"This is an exciting and growing industry with plenty of opportunities for new careers or career changes. There is going to be huge demand in the coming years to meet our country's climate ambitions. It is therefore key that we promote our industry as interesting and attractive and being part of the roadshows gave Worley a chance to do that."
Public relations
With equal emphasis placed on consumer-facing events and industry networking, Scotland's Renewable Energy Roadshow oscillated between offering guidance and advice to facilitating collaborations and encouraging partnerships.
At the Lochgilphead Farmers' and Country Market in the stunning setting of a majestic sea loch, the Scottish Renewables' team set up their stall and fielded questions from the public. On hand was David MacArthur, Director of ornithological and ecological consultancy MacArthur Green.
"It was important to me to attend the event as my renewable energy journey started in Argyll when I worked with NatureScot on wind farms in Kintyre. Over the last 20 years, I have worked on numerous other sites through my company MacArthur Green and have been lucky to get to know many of the landowners involved in these schemes. It was a pleasure to see some of them at the event.

"The roadshow offered an opportunity to re-connect with old acquaintances in Argyll and discuss the issues that are important to them.

"The atmosphere at the event was friendly with many of the locals interested to learn more about renewables and COP26."
Local knowledge
From one end of the country to the other, Scotland's Renewable Energy Roadshow reached out to communities at the forefront of the transition to net-zero. For the second industry event, the tour went south to The Henry Duncan Building at Dumfries and Galloway College.
The newly opened venue was designed with renewable energy at its core and doths its cap to the local founder of the savings bank movement. On the day, however, local insight was provided by Robin Winstanley, Sustainability and External Affairs Manager at Banks Renewables, who spent his formative years in the area.
"The roadshow event was great because of the energy in the room about the transition to net-zero - everyone shared the same passion to get there the right way, and to get there together.

"It was also surprising to see so many familiar faces - despite the face masks - from Galloway, where I grew up. That was a nice surprise."
Apart from touching base with old acquaintances, the meeting also acted as a platform for local issues to be voiced and listened to, as Robin explains.
"It was important to be involved in these events because we not only believe in the power of renewables to make a positive difference to society but also to build a sustained legacy through collaborations with local communities. The roadshow offered us a chance to listen to voices of the community and key people within them with a stake in their success. What's more, we live and work in these communities and care about the impact they have. For these reasons, it was clear we needed to be involved."
Also speaking in Dumfries was Joseph Hill, Sales Manager at Kensa Contracting, which will be launching an augmented reality experience - welcometogreenstreet.com – at COP26. Like Robin, he also acknowledged the shared aspirations of the invited audience.
"It was amazing to see so many like-minded people with a common goal, sharing innovative ideas about how best to utilise renewables on the road to zero carbon. Despite the challenges we face, it was great to share the enthusiasm for utilising new technologies and that, by working collaboratively, a greener future can be achieved."
The event was closed by Corey Baker Dance; an award-winning production company that will perform new work during COP26. Those in attendance were treated to an excerpt of that show which encourages people to consider their relationship with energy.
Worth a dam
The final leg of the tour required a suitably impressive venue with robust renewable credentials and, ideally, a welcome dose of autumnal sunshine. SSE's Pitlochry Dam Visitor Centre delivered on all counts with the added bonus of the facility celebrating its 70th anniversary, the option of sampling sublime freshly made scones and the return of Corey Baker Dance.
Claire Mack, Chief Executive of Scottish Renewables, was on hand to compere the session:
"The finale of the roadshow at the visitor centre in Pitlochry was a fitting conclusion to a remarkable tour of Scotland.

"I had already attended the public-facing event at Lochgilphead, so had a taste of what people are really interested in when it comes to renewables. That event proved memorable because of the ardent support of local councillors and land owners in encouraging renewable energy solutions. At Pitlochry with COP26 just around the corner, the discussion turned to the groundswell of support to make decisive action on a global scale. There was a clear call for politicians attending COP26 to act."
Claire shared the stage with Scotland's Deputy First Minister John Swinney, who robustly echoed the call for action.
"I was delighted to attend the Scottish Renewables Roadshow and speak about the advantages of renewable energy.

"With COP26 fast approaching, it is clearer than ever that we all have a collective responsibility to tackle the climate emergency and secure our planet's future. As a nation, Scotland is in a powerful position to take meaningful action, with 25% of Europe's offshore wind and 25% of its tidal power potential.

"I am grateful to Scottish Renewables for hosting these roadshows, and for the key role they are playing in promoting the benefits of renewable energy."
SSE's Group Finance Director Gregor Alexander, who hosted the final day of the roadshow, was also in agreement:
"When thousands of delegates, including heads of state, climate experts, businesses and campaigners, congregate in our largest city, we need more than just hot air. It must match the ambition of the Paris Agreement with meaningful global and collective action if we're to make in-roads in the climate challenge.

"I'd like to thank Scottish Renewables for organising such an exciting roadshow concept at such an important time for us all."