Floating ideas: a preview of Scottish Renewables' 2021 Marine Conference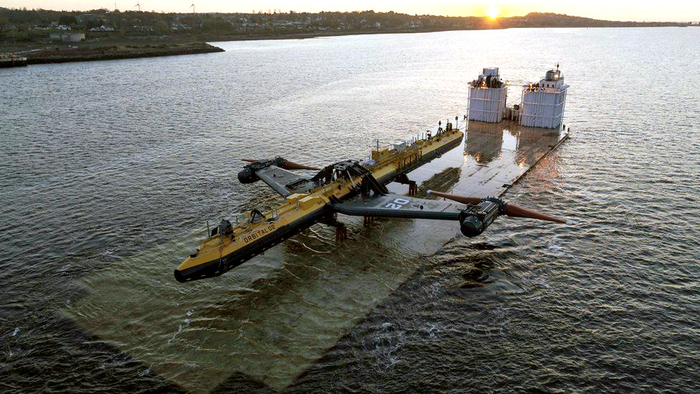 Our Chief Executive Claire Mack previews SR's Marine Conference, which will be held on June 23.
It will be a delight to welcome the marine industry back to our Marine Conference in June. Alas we are still meeting virtually, but the achievements of the last year are very real indeed.
In recent times we've seen the successful launch of the Orbital O2 machine with the ability to generate enough clean, predictable electricity to meet the demand of around 2,000 UK homes and offset approximately 2,200 tonnes of CO2 production per year.
Other notable developments include Nova's tidal-powered EV charge point which has been installed in Shetland and their ground-breaking partnership with the whisky industry in Islay, not to mention further developments at the SIMEC Atlantis Energy MeyGen site in the Pentland Firth and their successful export of a Scottish-built tidal turbine technology to Japan.
That project was a huge boost to Nigg Energy Park where the AR500 machine was assembled and tested and a signal indeed of the energy transition in action for that site, previously a hub of oil and gas activity.
In wave, exciting progress is being made with the Edinburgh based developer Mocean Energy's Blue X device due to be deployed at EMEC in Orkney in the coming weeks.
So as we look forward to Scottish Renewables' Marine Conference on June 23, what do we expect to see and hear on the agenda?
As an industry renowned for its resilience and tenacity in continuing to push forward with policy debate at both UK and Scottish government level, some of the key marine industry leaders will come together to debate the headline issues.
As ever, they include options for a route to market – particularly relevant as we start to see the UK Government review the Contracts for Difference process and hope to see some movement on the long-held conversation over a revenue support mechanism which could support earlier-stage technologies on their cost-reduction journey.
Our scene will be set by insights from the globally-recognised Economist Intelligence Unit, whose recent report documented strong growth in the US Blue Economy which could be replicated here in the UK. That study, 'Accelerating Energy Innovation for the Blue Economy', predicts technology leaps for the wave and tidal sector which will help to cement its next set of milestones – find out more at the Conference.
We'll also be talking about a refresh of the Scottish Marine Energy Industry Group, which Scottish Renewables is supporting.
The Conference's hour-long Leaders Debate is always a highlight, bringing forward as it does all the key discussions on policy and operational developments within what remains one of the most exciting and promising sectors within renewables in Scotland.
There is no doubt that the size of the prize is enormous and it feels closer than ever as we use this opportunity to set the stage for our global showcase later in the year through COP26.
Pic: Orbital Marine Power