Diversity is more than a state of mind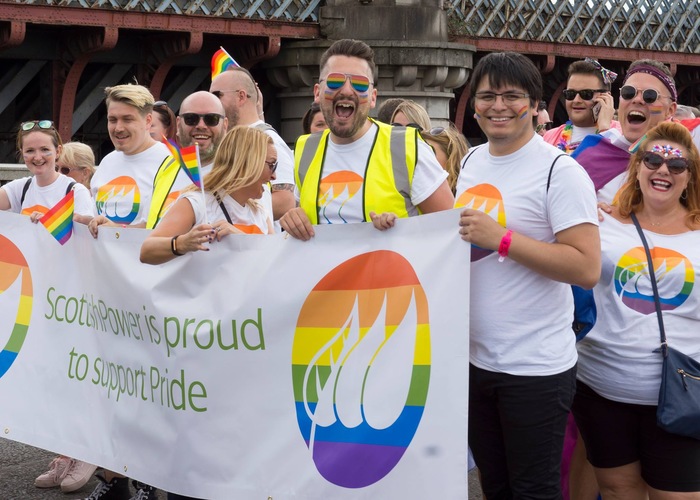 It's a cliché to say so, but judging the Young Professionals Green Energy Awards is no easy task. One of 2019's nominations in particular gave our panel pause for thought.
Aside from his day job (managing the financial accounting of ScottishPower Renewables) Blair Cruikshank had set up, and chaired, a new LGBT+ network, In-Fuse, at the 6,000-employee utility.
Last night Blair stood in front of guests at the black-tie awards ceremony in Glasgow and explained his motivation, speaking about the benefits of openness and tolerance in the workplace.
Next year's YPGEA will contain a new award, for Culture Change, to recognise those who've championed change for the better across renewables.
Here we reproduce highlights from his address, which deserves a wider audience:
It's reasonable to wonder – and I've done so myself – what relevance networks supporting minority issues have in the workplace?'
A person's gender, sexual orientation, ethnicity or social background should have no bearing on their working day – so why should a network even exist?
It was with this in mind that I attended a presentation by LGBT+ rights group Stonewall Scotland at ScottishPower's offices on Valentine's Day 2018.
We heard how:
Only 25% of Scottish LGBT+ employees feel comfortable to disclose their sexual orientation to their colleagues
60% of 'out' LGBT graduates go back in the closet when they join the workplace
One in eight trans people have been physically attacked by customers or colleagues in the past year because of being trans.
It was at this point I became incredibly aware of something that I think most of us in this room are guilty of forgetting every day: I am privileged.
I have spent the majority of my personal and professional life with only minor homophobic experiences, and have to the best of my knowledge not been impeded in my career by who I am: an unashamed gay man.
However, for every one of me, statistically there were another three LGBT employees who didn't even feel they could be open about their sexuality in the workplace.
That's three employees spending their day not letting their colleagues get to know them.
Three employees de-gendering their weekends to remove he or she when referring to their partner.
Three employees who were therefore not collaborating effectively with their teams, and who statistically would leave our organisation within less than three years.
Worst still, new graduates were going back into the closet for fear of the impact being open about their sexuality would have on their ability to be successful at ScottishPower.
And I can't even begin to imagine for a second that even one trans person within our organisation had faced physical abuse in the past year from a customer, let alone a colleague.
But these are the facts.
It was with this in mind that I and others decided to get together and discuss what a network at ScottishPower could look like.
Three months later we had established a core organising group, of which I was appointed chair.
Our first aim was to have a presence at Pride Glasgow.
Within just two months we were not only marching in the parade with 50 employees (led by one of our electric vehicles) but we had a presence at the festival site where we got the chance to openly proclaim ScottishPower an employer that was open to diversity of all kinds.
Since then we've:
Introduced gender-neutral toilets
Held breakfast briefings on a range of diversity topics which are accessible to remote staff by phone, or through downloadable videos
Established a bi-monthly newsletter which aims to inform, educate and include ScottishPower employees on matters that can impact the LGBT+ community
Issued company-wide videos on celebrating National Coming Out Day, supported by senior management
Attended every employee initiation event to highlight the existence of the network
And, most recently, promoted our network alongside ScottishPower's mental health first aiders whilst marking International Day Against Homophobia, Biphobia and Transphobia
Diversity networks are required because, unfortunately, no matter how far we think we have progressed as a society the playing field isn't unfortunately equal.
But in an industry such as renewables – one where we need to be finding constant ways of innovating, reducing costs, working more effectively and solving tomorrow's problems – I'd argue the only way to do that is to ensure that we look to attract and most importantly retain the very best talent from the very widest pool.
We need to ensure our organisations aren't ones of cosy tribalism, but ones where a diversity of not only race, gender, sexuality and religious belief exists; but most importantly ones where a diversity of thought exists.
That's the type of organisation which is going to be fit for the challenges faced by this industry.
That's the type of organisation that I and many others would happily work for, and pour a large part of our lives and energy into.
That's the type of organisation which is going to succeed, and I'm proud that In-Fuse has played its part in making ScottishPower a place where diversity of all kinds can be nurtured, supported and encouraged.
Society can change, but only if we all work together to create that level playing field.
A playing field where everyone, regardless of anything that makes them different, has an equal opportunity to succeed.
And, ideally, a playing field, where a network such as In-Fuse has no reason to exist at all.