Renewable energy industry celebrates The Scottish Green Energy Awards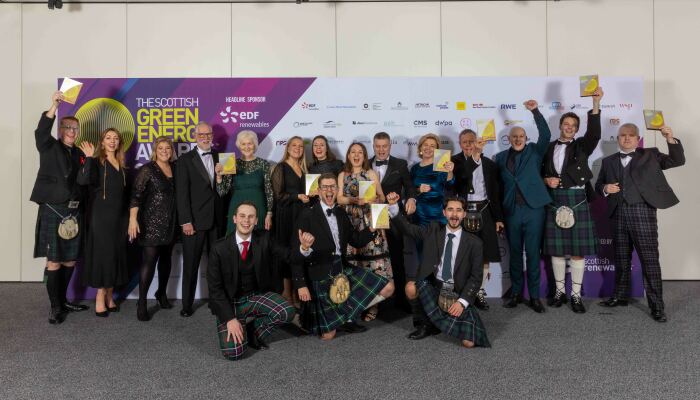 The UK's first all-electric intercity bus service drove off with a top prize at tonight's (December 1) Scottish Green Energy Awards.
Ember, whose low-emission coaches can complete a 130-mile round trip to Edinburgh and Dundee on one charge, were proud winners of the Carbon Reduction Award.
Scottish Renewables' flagship event returned to the EICC in Edinburgh where more than 1,200 guests celebrated Scotland's renewable energy industry and applauded the 13 award winners who were recognised for their achievements over the past year.
The winners were selected by a panel of 14 judges from a shortlist of 46 finalists.
Among the winners were:
Forth Ports, which picked up the Outstanding Project Award for building Scotland's only custom-built renewables hub – a £40 million development at the Port of Dundee.
Community organisation, Aros An Rubha scooped the Best Community Project Award for revitalising the former Knock School on the Isle of Lewis. The bilingual multi-purpose facility uses a mix of energy sources such as solar panels, an air source heat pump, battery storage and insulation to reduce its dependence on the grid.
SSE Renewables, with partners Microsoft and Avanade, who took home the Best Innovation Award for their use of artificial intelligence to monitor puffins and salmon. The pioneering technology can spot the difference between individual puffins which avoids counting the same bird twice to help with monitoring wildlife at a wind farm and a hydropower site.
Michael Matheson MSP, Cabinet Secretary for Net Zero, Energy and Transport, gave a keynote address at the awards emphasising how the renewable energy industry is continuing to play a vital role in supporting Scotland's net-zero ambitions.
Claire Mack, Chief Executive at Scottish Renewables, said:
"What a fantastic way to round off what has been another incredible year for the renewable energy industry in Scotland.

"Every year when we receive award entries it is clear why Scotland is a world leader in renewable energy and I always marvel at the sheer scale of innovation, creativity, skill, hard work and commitment that goes in to making renewable energy such a thriving industry.

"This year we had 13 brilliant winners, but it is always really difficult to choose due to the quality of all the entries that we receive. Each category is unbelievably competitive, so I'd like to congratulate all those who were shortlisted, as well as those who took home awards."
Matthieu Hue, CEO of EDF Renewables, the Awards' Headline Sponsor, said:
"In a year full of uncertainty, it has been a treat to celebrate the very best people, not just in our sector but in the country. Congratulations to each and every one of the winners."
The full list of winners is as follows:
Best Engagement Award, sponsored by SmartestEnergy: Foundation Scotland for Vattenfall's South Kyle Windfarm
Best Community Project Award, sponsored by Scottish Power Renewables: Aros An Rubha for Revitalisation of the Former Knock School
Young & Inspiring Award, sponsored by WSP: RES' Gender Affinity Network
Best Innovation Award, sponsored by Red Rock Power: SSE Renewables, with Partners Microsoft and Avanade, for Artificial Intelligence Puffin and Salmon Monitoring
Contribution to Skills Award, sponsored by SSE Renewables: X-Academy
Outstanding Service Award, sponsored by Green Investment Group: ORE Catapult's Launch Academy
Positive Improvement Award, sponsored by Natural Power: Sulmara
Champion of Renewables Award, sponsored by Fred.Olsen Renewables: Marc van Grieken, MVGLA Landscape Architecture
Outstanding Project Award, sponsored by RWE: Forth Ports Limited for Duneco Quay and Prince Charles Wharf and Extension
Sustainable Development Award, sponsored by Hitachi: Distell International
Carbon Reduction Award, sponsored by Statkraft: Ember
Judges Award, sponsored by Ocean Winds: ReBlade Ltd for Circular Disposal of Wind Turbine Blades
Outstanding Contribution Award, sponsored by Highlands and Islands Enterprise: Patricia Hawthorn, Shepherd & Wedderburn
Ends
Notes:
A selection of images from the event is available here.
Sponsors of The Scottish Green Energy Awards 2022 include EDF Renewables (Headline Sponsor), Fred. Olsen Renewables, Green Investment Group, Highlands and Islands Enterprise, Hitachi Energy, Natural Power, Ocean Winds, Red Rock Power Limited, RWE Renewables, ScottishPower Renewables, SmartestEnergy, SSE Renewables, Statkraft, WSP, Northland Power, Wave Energy Scotland, Aker Solutions, ASH, CMS, DWPA, EICC, MacArthur Green, Mainstream Renewable Power, Muirhall Energy, MVGLA, Nexans, RES, RPS, RSK, Siemens Gamesa, Ventus, Voltalia, WWS and Xodus.
A full list of shortlisted entries is available on the Scottish Renewables website and details on each entry is available from the event programme.