Technology of the future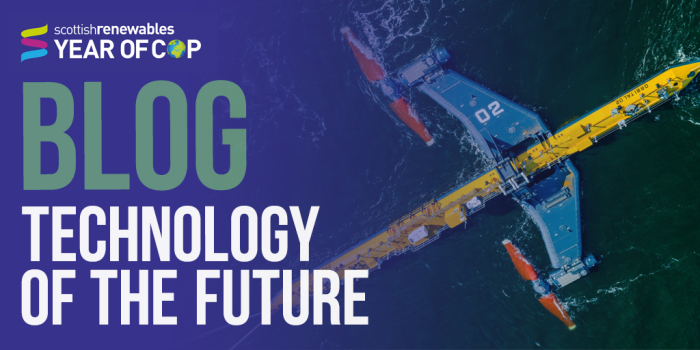 You may not have heard it, but the starting gun has already fired on one of the most important races ever to be staged. As eager competitors jostle for position, each one hopes to outpace their rivals and claim victory.
But this contest has a long way to run, and picking a winner isn't going to be easy.
Our race to net-zero – of which November's COP26 in Glasgow is just a part - will depend on the latest ground-breaking renewable technologies and innovations, but which ones are leading the way? Or will they all have a part to play in what happens next?
This fourth blog in Scottish Renewables' Year of COP series considers the emerging renewable technologies that could help Scotland reach net-zero.
Going with the tide
It's easy to see why a tidal-powered turbine, which its makers say is the most powerful in the world, has attracted so much attention. The 680-tonne Orbital O2 started generating electricity using the power of fast-flowing water this summer and has the capacity to meet the annual electricity requirements of 2,000 homes, off-setting approximately 2,200 tonnes of CO2 production annually for the next 15 years.
Assembled over 18 months in Dundee and now positioned just off Orkney, the O2 is the culmination of nearly two decades of painstaking research and development. It's also the manifestation of a concerted effort to realise the company's ambitions led by Orbital Marine Power Chief Executive Andrew Scott:
"Scotland and the UK possess vast tidal stream energy resources. With its highly predictable nature and generation profile distinct from wind and solar, tidal energy could become an incredibly valuable source of low-carbon energy as part of a net-zero energy mix.

"The O2 project was delivered with 80% UK supply chain content also demonstrating the potential for a new British industrial opportunity whilst contributing to UK and international carbon-reduction targets."
Deployed at the European Marine Energy Centre in Orkney – a living laboratory for marine energy prototyping and demonstration – the O2 will show how tidal stream energy's highly predictable characteristics deliver efficiencies for green hydrogen production and energy networks as part of a holistic vision across energy systems and end users. Whatever linkups occur, momentous steps have already been made.
Stepping on the gas
Hydrogen, as anyone in energy knows, is being touted as a vital piece of the net-zero puzzle, even if we don't yet know the shape of the puzzle or indeed how many pieces it will have.
Chris Gill is globally responsible for hydrogen at Worley. The company was recently awarded a services contract by Shell to support the development of a new green hydrogen plant in The Netherlands. Providing early engineering services, Worley will also advise on asset integration including the selection of the best technology, as Chris explains:
"There are a vast number of technologies coming through the ranks. Worley is in a unique position in that it is technology agnostic. This means we can choose the best technology for our customers regardless of who owns it."
Chris believes the move to a hydrogen economy is about more than just technology:
"This is a rapidly moving and evolving space. We need to focus on finding ways to bring down the cost of integrated projects to make them commercially viable. Our team in The Netherlands is also leading the process on this for green hydrogen. We can then apply this globally, or closer to home, in places like Scotland."
Legal tender
The significance of hydrogen isn't lost on Tom Swan. As a partner at Shepherd and Wedderburn; a leading Scottish-headquartered UK law firm, he operates in the world of corporate finance concentrating on renewable energy. More specifically, he has been involved in a range of projects utilising green hydrogen produced using renewable electricity.
He said:
"Hydrogen is going to be one of the most important components in getting to net-zero. It's a big opportunity for Scotland and Britain."
Tom believes, however, that to fully realise this potential, the current regulatory framework must be overhauled:
"It is clear that to develop a hydrogen economy, government subsidy for hydrogen producers will be required along with an updated regulatory framework that removes barriers to development and delivers the right incentives to unlock investment. In its recently published Hydrogen Strategy, The UK Government has committed to undertake further work on both of these matters."
Innovation comes in many forms including making changes to regulations that underpin the energy industry as we move from high to low-carbon fuel.
But according to Tom, some significant changes could be made out at sea with floating technologies providing the means of unlocking the true possibilities of wind.
"Wind is already important – and it's going to be even more so in the future. In order to fully access wind resources of the North Sea, you are going to have to go into deeper areas than you can with a fixed turbine attached to the seabed. This means that the development of floating wind technology is vital to realise the full potential of our wind resources offshore."
Float your boat
These tantalising glimpses of tomorrow's technologies must be tempered by the everyday challenges of making them happen.
Dr Carolyn Heeps, Head of Offshore Wind at Fred. Olsen Renewables, has seen plenty of changes over her extensive career which stretches back to the birth of the sector.
"People are talking about the next generation of wind turbines being 20MW by the end of the decade. There is no way we could have believed we would be talking about that size of turbine during those very early days in 2001."
Progress is relentless, and to make it happen requires practical solutions today. For instance, Carolyn believes using ready-to-go technology to facilitate innovation is as important as innovation itself.
She continues:
"It's the steps that we make towards innovation that are going to be important. For instance, floating offshore wind is attracting an increasing amount of attention, and we at Fred. Olsen Renewables, are part of that.

"It's something that we see very much as the future. But getting floating offshore wind to a commercial scale by the end of the decade is a big ask."
The ambitions set out in Scotland's latest offshore wind leasing round – ScotWind – are bold, and are pivotal to increasing the UK's renewable energy capacity.
As Carolyn notes, however, one of the limiting factors in Scotland could be suitable port infrastructure to integrate turbines and floating structures at the quay side.
"We're promoting an exclusive technology for the installation of turbines and floating structures which we call our Mobile Port Solution.

"As nowhere in the world has the perfect floating off-shore wind port infrastructure yet, we're saying, let's take it off-shore. Let's free up capacity at existing ports – allowing more development to take place at pace. Through the use of our existing jack-up vessels in sheltered locations, the mobile Port Solution will allow Scotland to expand its port capacity for the construction of offshore wind, creating manufacturing and fabrication facilities and increasing long-term sustainable jobs. The Mobile Port Solution helps to establish floating offshore wind hubs and contributes to the development of larger regional port clusters which are essential for the successful delivery of floating offshore wind at a commercial scale."
She goes on to discuss specific developments in areas such as dynamic cabling, anchoring designs and autonomous vehicles, but her point is that the route to progress should include building on our already strong foundations and adapting what we already have by utilising core competencies, infrastructure and re-purposing the local workforce to help Scotland become a global leader in floating offshore wind.
Weighing in
Gravitricity is a company that has taken an existing principle and reapplied it with remarkable success. Its novel storage technology takes the idea of using gravity to hold energy within material – most commonly used in pumped-storage hydropower using water – but reinvents this principle using weights.
A £1 million demonstrator in Edinburgh verified the idea by using excess power to raise weights in order to store energy until required. The electricity is then released when the weights are dropped. Tantalisingly, this initial installation will soon be superseded by a full-scale solution at a location yet to be announced, although the company has indicated that old mine shafts could be utilised in addition to bespoke facilities.
According to Gravitricity's Managing Director Charlie Blair, the five years since he joined the team have been exhilarating.
"It's very exciting because people are really interested in what we do. We get enquiries from around the world because people understand the requirement to store energy and they understand our concept because it's such a simple idea.

"To some extent generating and storing electricity has been the easy part. It's now about making sure that all the players involved recognise the game-changing potential of long-life mechanical energy storage to enable the energy transition. We are working with various others to make this happen; to change the rest of our economy based on other forms of energy that are best suited to replace hydrocarbons. We're looking to store large amounts of energy over long periods in order to enable that transition."
While Gravitricity's success has been founded on proven principles, it has taken determination and adaptation to realise its potential – the company recently revealed plans to add hydrogen and heat storage to its purpose-built underground gravity energy systems.
Inevitably and somehow reassuringly, the discussion ultimately turns to the blend of emerging technologies that will collectively take us forward:
"The challenge is the implementation phase, not just for Gravitricity but for all technologies.

"The challenge is taking them off the drawing board and making them a reality.

"In many cases that requires imagination, investment and policy.

"Scotland has a good track record of being an innovative country, so it's a good place to be."