Through the eyes of COP26: The new Scottish Government's first six months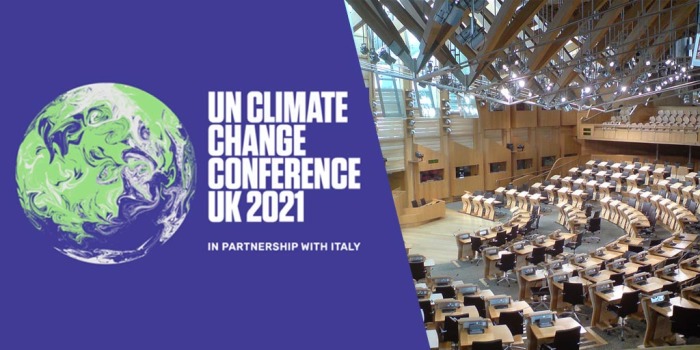 The first few months of a new job are challenging. Not only is there the IT system to circumnavigate and the prevailing office politics to consider, but it's also customary to set out your stall to establish yourself as someone to be reckoned with.
For Scotland's new intake of MSPs, this bedding in process comes at a time when the country is tentatively emerging from lockdown while at the same time readying itself for COP26 in Glasgow.
With this in mind, the third blog in Scottish Renewables' Year of COP series considers what the new government can realistically achieve in its first six months before Scotland becomes a focal point for the world.
With plenty at stake, the 2021 Scottish elections were momentous. Ahead of the political hurly-burly, Scottish Renewables issued its recommendations on behalf of an industry driving jobs and investment while reducing the carbon emissions that cause climate change.
The detailed list included 14 suggestions covering three main themes: the environment, the economy and community. Ideas included introducing low-carbon considerations to the planning process and streamlining funding into the Community and Renewable Energy Scheme. At the heart of these themes was the creation a new cabinet secretary's position for energy and net-zero transition.
Within a month of the election, at one of his first engagements as Cabinet Secretary for Net Zero, Energy and Transport, Michael Matheson laid out his commitment to action:
"2021 is a vital year for climate action and COP26 in Glasgow puts Scotland centre stage. We'll demonstrate the climate action Scotland is taking. The time for action is now. It is the people living on this planet, at this moment, who can secure the future of our climate for the next generations."
His comments launched the Let's do Net Zero advertising campaign - a priority for The Scottish Government in its first 100 days. With less than six months until COP26, what else can be achieved?
According to Christopher Blunt, Head of Government and Infrastructure Scotland at Deloitte, the administration should plot a three-pronged course ahead of the COP26 summit.
"Firstly, The Scottish Government should announce demonstrator projects that they've helped to nurture, develop and support. The Scottish Government also needs to set policies for the future to provide direction and certainty which can underpin innovation and investment. Finally Scottish ministers should make targeted funding available for particular types of technologies, such as hydrogen. In six months, these are the tools that will give the best prospect of success and contribute to Scotland's positioning as a market leader in low-carbon transition."
Working at the public-private interface, Deloitte is often involved in strategic projects which mobilise low-carbon investment, particularly as Scotland targets a low-carbon recovery from Covid. With the clock ticking, Christopher expands on his suggestions:
"The Scottish Government needs to be clear and accelerate Scotland's commitments towards a low-carbon transition. It should use some of the demonstrator projects I've talked about to build a long-term supply base so, in effect, Scotland becomes a global hub using its renewable power to be a centre of excellence for low-carbon technologies.

"We've got a really good story to tell in Scotland. The oil and gas sector is now transitioning to low-carbon with balance sheets to invest in emerging technologies, we have a strong funding heritage and a number of research centres of excellence. There's a first-mover advantage that Scotland can seize upon by creating hubs for the delivery of these new technologies."
While he maintains policy decisions should be left to politicians, he believes Scotland's future could be rosy if a funding framework is created that targets support and the transition away from fossil fuels is embraced to make Scotland a global hub for advanced renewable technologies.
Others are looking for more specific progress, especially when it comes to planning.
Craig Duffy, Head of Onshore Wind at EDF Renewables, handles front-end investment through the development cycle and on to the final investment decision ahead of construction. With a background in strategy analysis, financial modelling and banking, he is well-placed to predict what The Scottish Government might do next.
"If we're looking at what's within The Scottish Government's power, it fundamentally comes back to the planning system. That's the one thing that can really influence things because it's a devolved system that is critical to the delivery of projects.

"It's well documented that Scotland has some of the best wind resources in Europe. There are huge opportunities but this potential needs to be unlocked. Part of that is the route to market, but planning also has a role to play."
While noting the pace of technology change in both offshore and onshore wind has been unprecedented, Craig suggests the onshore planning system needs to adapt to the unique pressures this presents.
"We've ended up with a large pipeline of projects, which is great, but many of them need to be reconsented because of the roll-out of the latest technology, including more efficient turbines with higher tip heights. The pace of planning approvals hasn't kept up with the emergence of new technologies."
With decisions in planning approval timelines taking 37 months on average, Craig hopes the process can be accelerated so fewer projects are overtaken by innovation. As for the first six months of the Government's tenure, he believes it should be spent setting out a vision.
"For net zero to happen, the organisations that contribute to it need to speak the same language and understand the challenge. In its first six months, I think The Scottish Government can set out its ambition of what a planning system to deliver net-zero looks like. That's the key."
As anticipation grows, calls for sector-specific action will join mainstream lobbying. Karl Drage, Director of Business Development at the Kensa Group, is, for example, advocating more precise action on housing. In particular, he's looking to boost progress towards a carbon-free future and the economic benefits that will follow.
"We encourage the Scottish Government to consider the potential of technologies such as shared ground arrays and ambient heat networks - to accelerate the transition, with an initial focus on social housing retrofits and new build developments.

"We would also urge The Scottish Government to contemplate running pilot and demonstration projects and to implement supportive regulation. The opportunity for jobs and skills transition is huge."
While many will understandably turn to The Scottish Government to champion change, others are reflecting on their own carbon relationships. Kirsty MacArthur, Director at environmental consultancy MacArthur Green, believes those businesses that have been largely unaffected by lockdown should lead the way.
"As a business, we have worked hard to reduce our carbon footprint and, for the emissions we can't get rid of yet, we've offset them. We wanted a climate change solution that feels authentic to our company so we opted to buy land and plant almost 30,000 native broadleaf trees at our own native woodland site at Loch Fyne. However, trees take around five to six years to start sequestering carbon, so we asked our team to vote for carbon offsetting schemes.

"We then spent £2,200 calculating our carbon footprint and offseting it for a year, and this was offsetting by a factor of two. Ideally, you want to get your carbon footprint down through using electric vehicles, turning your heating down, changing electricity supplier or getting LED lights - there are oodles of examples, but the point is; it's not expensive.

"Many companies have struggled during Covid, so I feel it's incumbent on those businesses that are doing okay to do more to reduce carbon emissions. And that would be; stage one, calculate your footprint and stage two, manage your footprint down. That can be done in the space of a couple of months. In order to understand the difference you can make, you have to measure it and then you can manage it."
Kirsty believes The Scottish Government can ease the way for all businesses to start addressing their own energy habits.
"So the ask of the government would be to provide clear signalling that carbon reduction is valued, ask about carbon reduction in the procurement process perhaps setting achievable targets for carbon reduction for suppliers.

"I would also like to see the introduction of a grant scheme at COP26. Most businesses want to do something to help mitigate climate change, so the will is already there. A one-off grant would provide an incentive for businesses to get their carbon footprint measured so they know where they use the most carbon and where they need to make changes, which could be vehicle mileage or flights for example. This funding would then help them with carbon management advice, perhaps through accredited organisations. We've seen this work successfully with the likes of the Government's Cyber Security grant in the past. I think that would be quite easy to do."
As anticipation surrounding COP26 builds, The Scottish Government will find itself under intense scrutiny. How it copes and what it achieves in its first six months could define what happens next.