Countdown to COP26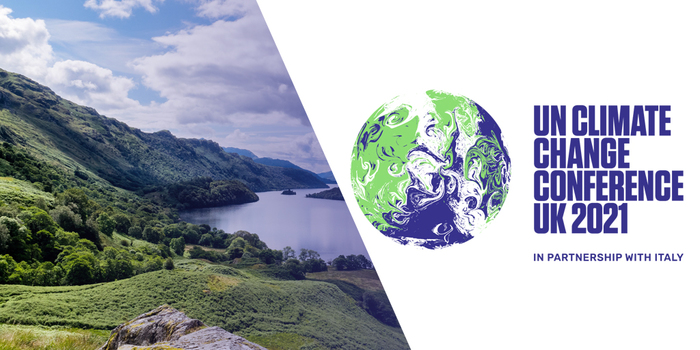 As anticipation grows ahead of this year's landmark gathering of policy makers and climate activists in Glasgow, Mark Alexander looks at some of the issues that will be up for debate at COP26 and form the premise of the upcoming Scottish Renewables' COP26 conference
After an unavoidable delay, COP26 is nearly upon us.
The 26th UN Climate Change Conference of the Parties (COP26) is fast approaching and will bring heads of state, campaigners and climate experts to Scotland to forge a path to tackle climate change.
Preparations are under way to ensure this critical event delivers. The UN secretary general António Guterres has, for instance, instructed governments to hold formal pre-negotiations online for the first time ever.
In the past, summits have fallen foul of leaving too many outstanding issues to be resolved at the showcase two-week meeting. The Paris event in 2015 bucked that trend when the organisers arranged an 18-month programme of talks in advance, resulting in agreements being reached about many key issues ahead of the talks.
By contrast, the Madrid COP in 2019 ended inconclusively when key issues surrounding global carbon markets were left unresolved and still linger for COP26.
As those pre-talks proceed, Scottish Renewables has organised a free-to-attend conference that will explore how Scotland can prepare, influence and benefit from what happens next. It will also offer a unique opportunity to celebrate what has already been achieved.
Morag Watson, Director of Policy at Scottish Renewables, explains:
"In the run-up to COP26, the main thing for a country like ours is to show how it can be done; to show that you can be a successful, thriving nation and net-zero.

"We have to demonstrate that you can put the well-being of our climate, the well-being of our biodiversity and the well-being of our people at the centre of what you do as a nation, and thrive. You don't have to sacrifice any of these elements."
At the conference, Morag will be joined by an incredible line-up of speakers who will discuss Scotland's wealth of natural resources and debate how to adapt society's behaviour to influence climate change.
The event will be organised around three main themes:
new and emerging technologies that are being developed to solve global problems,
how biodiversity is a crucial part of the toolkit
explaining how people are at the heart of energy transition which we need to meet net-zero.
Clare Foster is passionate, even evangelical about clean energy and the opportunities that surround it.
Her enthusiasm is contagious and conveys the wealth of knowledge she has amassed as Head of Clean Energy and Partner at one of Scotland's leading law firms, Shepherd and Wedderburn. With a particular focus on project finance in power and infrastructure projects, who better to speak about the huge opportunities presented by COP26?
Recalling her invitation to talk at Scottish Renewables' COP26 Conference, Clare says it was an opportunity not to be missed.
"My reaction was one of excitement. We've reached a pivotal moment globally where every part of the economy and every citizen is affected."
This moment of climate reckoning has galvanised views and created a momentum that has even captivated a seasoned professional like Clare:
"We could spend time talking about the 40 gigawatts of offshore wind that we are targeting by 2030 - which is a four-fold increase on where we are at the moment - or about onshore wind, where the target is 35GW by 2035, which is pretty much tripling where we are in terms of installed capacity.

But when you look at the whole issue of climate change in the context of COP26, the world is asking how do we come back from a global pandemic and do so sustainably? How do we look at our society and make the changes that need to be made? That's an enormous challenge involving all aspects of our economy, but one we should relish."
And she should know.
Clare's work has included advising on a myriad of clean energy projects over the past 25 years, including advising what is now the Green Investment Group on the development and deployment of its inaugural endeavour, the Green Loan, and acting for the Renewable Energy Investment Fund in providing project finance, debt and equity for the world's first commercial tidal array project. She has also been a keynote speaker at numerous industry events presenting her vibrant views.
As she points out, the significance of COP26 goes far beyond simply communicating the benefits of renewables. Instead, it represents a moment in time when a new path can be forged:
"Never before have you had multiple sectors looking at the same problem. When have you ever had the financial, construction, energy, transport, education and public sectors – to name but a few - all asking; how do we tackle this?

"This presents tremendous scope for collaboration. It allows people to speak to each other and to share best practice. It allows people to come together in the context of something that has never happened before."
Historic.
Pivotal.
Ground-breaking.
There are plenty of adjectives to describe COP26, not just in global terms, but also for Scotland.
After all, when the countries that signed the United Nations Framework Convention on Climate Change (UNFCCC) arrive in Glasgow in November they will be tasked with accelerating action towards the goals of the Paris agreement.
Their attention will also turn inevitably to the credentials of their host.
Fortunately, Scotland has got form.
Clare adds:
"For us as a nation, it's a unique opportunity because the eyes of the world will be on the UK. When you look at the history of the UK in terms of its ability to innovate, infrastructure and energy are great success stories. The UK has led the way and we now stand on the cusp of a green industrial revolution which we must embrace."
Clare isn't alone in her upbeat appraisal.
Matthew Black has worked in renewable technologies for more than 12 years. He is passionate about driving down carbon emissions and mitigating climate change which fits neatly with his role as business development manager at Kensa Contracting; the ground source heat pump specialists.
Matthew believes this is Scotland's time to shine:
"Scotland will be at the forefront of the climate change agenda. We have to realise that this is a real global climate change emergency, so for us in Scotland, we need to implement change and take positive action now so we can demonstrate to the world that Scotland is a leader in this field."
If Scotland is to maximise the opportunities that COP26 presents, it would appear time is of the essence.
Matthew continues:
"Scotland has an opportunity to show its innovation and leadership in delivering effective solutions on the ground which can progress our world to a zero-carbon reality.

"I think the spotlight will be on what's been achieved to decarbonise electricity and the opportunities and challenges that exist in the heat and transport sectors."
With this in mind, Matthew's presentation at the COP26 Conference on February 25 will focus on the technology behind change and what the public can do to get involved.
He says proudly:
"We're talking about the future of low-carbon heat. I will be discussing heat pumps and their application as well as looking at the geology and local environment as heat resources. No one should be considering fossil fuels for heating in new buildings in Scotland today."
It's a hot topic. Scotland's migration to renewable electricity hasn't required huge sacrifices or living rooms to be rearranged en masse. The public hasn't been asked to fundamentally change their habits. In fact, you could argue, decarbonising the grid has been relatively straightforward.
The next step towards zero emissions will be more demanding.
Matthew says:
"It will be more intrusive, and it will involve raising the awareness of the general public."
Buy-in from the public will be critical in the fight against climate change and will go hand-in-hand with proactively defending biodiversity. Whatever happens, the next chapter will be written at COP26.
Annie Breaden is Head of Policy at Crown Estate Scotland and believes COP26 provides a unique platform on which to demonstrate nature-based solutions to climate change and showcase how Scotland is going about it.
She says:
"It's a huge world stage. Scotland has so much ambition when it comes to net-zero and this is a great opportunity to share but also to learn from others about how it can best be achieved.

"This conference is about kicking off those important early conversations to make the most of the opportunities later on."
Annie heads-up the policy department at Crown Estate Scotland and has been working in offshore wind for 10 years. She says the evolution of Scotland's approach to renewables is a continuous process:
"It's fair to say that our understanding of key consenting questions has developed significantly over the years. A lot of work has gone into ensuring we have a robust evidence base to inform decision-making. This has been achieved through collaboration between all the key stakeholders."
With a background in developing the Crown Estate Scotland's marine policy for energy and infrastructure, Annie is acutely aware of how far Scotland has come in developing best practices for the sector:
"There are easy wins such as ensuring developers collect and present data in a consistent way so that the cumulative impacts can be easily determined. The willingness of offshore wind developers to share data and collaborate on monitoring projects has been extremely impressive."
COP26 presents a unique opportunity to make real progress towards tackling climate change.
It also offers a chance to showcase the progress made in Scotland and how this experience could be used to form the basis of what happens next.
With hindsight as a guide, this trailblazing approach could also provide the basis for helping other countries on their journeys to a sustainable future.
The Scottish Renewables COP26 Conference is being supported by: