Delay to ScotWind Leasing process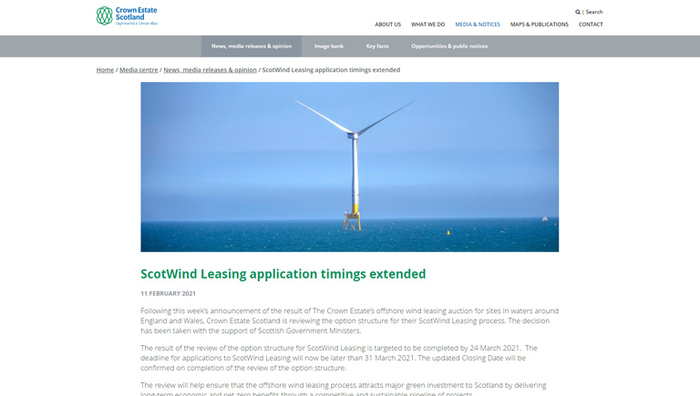 Crown Estate Scotland has this afternoon (Feb 11) announced that the ScotWind Leasing process will be delayed.
Responding, Claire Mack, Chief Executive of Scottish Renewables, said:
"Developing an offshore wind farm does not begin and end with deploying turbines in the sea and our members have already invested many thousands of hours, and many millions of pounds, preparing to bid into the ScotWind Leasing process. That process, which industry was first told would conclude in January 2020, is already 14 months overdue. Those companies will therefore be disappointed and intensely frustrated at this further delay, as well as at the possibility that the goalposts will be moved at such a late stage.

"It is vital now that the scope of this review is as focussed as possible, and that any delay to the overall process is minimised in order to reduce uncertainty for industry.

"We have the potential to build a globally-competitive offshore wind industry in Scotland, including a real chance to take the lead on the development of floating offshore wind. Scottish Renewables has previously warned that any legislative or regulatory changes which damage that goal – which is intrinsically linked to the achievement of our net-zero target – should be made with the utmost caution.

"Scotland is already disadvantaged by its tougher seabed conditions and the higher electricity transmission charges projects here face. If offshore wind is to deliver on its potential for job creation and economic development in Scotland it is imperative that the processes through which this low-cost, reliable technology is deployed are as straightforward, and progress as rapidly, as possible, and we would urge Crown Estate Scotland and The Scottish Government to proceed quickly with that in mind."
Notes:​
Crown Estate Scotland's announcement is available on its website.