Annual Energy Statement shows renewable power at 90.1%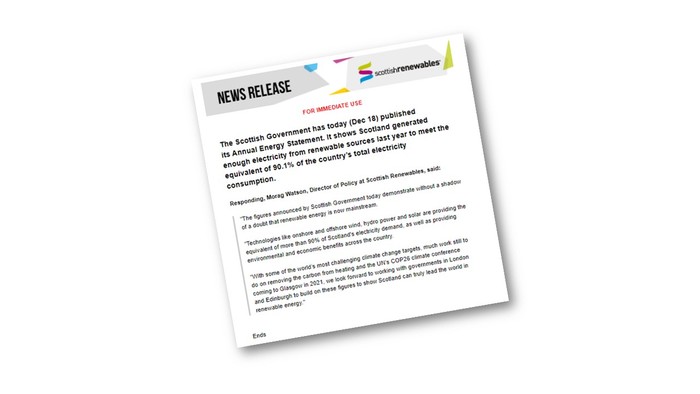 The Scottish Government has today (Dec 18) published its Annual Energy Statement. It shows Scotland generated enough electricity from renewable sources last year to meet the equivalent of 90.1% of the country's total electricity consumption.
Responding, Morag Watson, Director of Policy at Scottish Renewables, said:
"The figures announced by Scottish Government today demonstrate without a shadow of a doubt that renewable energy is now mainstream.

"Technologies like onshore and offshore wind, hydro power and solar are providing the equivalent of more than 90% of Scotland's electricity demand, as well as providing environmental and economic benefits across the country.

"With some of the world's most challenging climate change targets, much work still to do on removing the carbon from heating and the UN's COP26 climate conference coming to Glasgow in 2021, we look forward to working with governments in London and Edinburgh to build on these figures to show Scotland can truly lead the world in renewable energy."
Notes:​
A press release on The Scottish Government's Annual Energy Statement can be found here.
We responded to the heat stats found in the Annual Energy Statement when they were first released in October 2020.