A renewables roundtable for the green recovery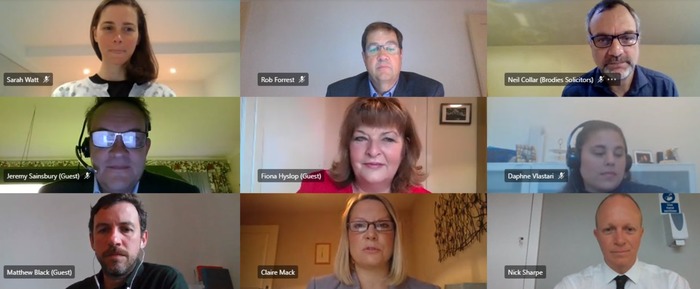 Fiona Hyslop, Scottish Government Cabinet Secretary for Economy, Fair Work and Culture, was treated to a whirlwind tour of Scotland's renewable energy industry by Scottish Renewables' members at a roundtable event this week.
The session, designed to place renewable energy at the heart of the green economic recovery from coronavirus, heard from 13 members and the SR team on three themes: renewable heat, infrastructure projects, and skills and export.
Opening the session, MSP Fiona told how:
"The Scottish Government really values the close association we have with Scottish Renewables and its members and our close and effective collaboration on addressing key issues."
Describing how government "can't do [the transition to net-zero] on our own", she went on to discuss how it was:
"…vital that public and private sector partnerships are formed to build the green recovery so that we can create and preserve jobs and set the whole of Scotland on the trajectory towards net-zero carbon emissions by 2045."
Starting the debate on renewable heat, Matthew Black of Scottish Renewables' member Kensa Contracting praised The Scottish Government for its approach to heat decarbonisation but highlighted the low cost of gas as a key barrier to the deployment of renewable heat technologies, calling for "a heavier green levy on gas heating" to level the playing field.
Engie's Nicola Mahmood reflected on experience of projects developed under The Scottish Government's Low Carbon Infrastructure Transition Programme, calling for similar support which could guarantee a pipeline of projects and enable the development of a wider low-carbon heat supply chain.
A theme which was returned to throughout the event, chaired by Scottish Renewables Chief Executive Claire Mack, was that of joined-up local energy systems, particularly where renewable electricity could be used to provide heat for homeowners in fuel poverty.
Mentone Energy's Rosie McGlynn and Scottish Renewables Chair and GreenPower International CEO Rob Forrest showed joined-up thinking is key in this area, with Natural Power's Jeremy Sainsbury also contributing on the need to develop robust electricity networks to translate renewable generation into clean heat.
Because of its importance to the development of renewable energy projects and the consequent loss of their positive economic impact, issues with planning were raised by a number of members.
SSE Renewables Managing Director Jim Smith said:
"It is unfortunate that National Planning Framework 4 has been delayed until 2022. There is a real concern that it doesn't include a requirement for planners to consider the climate emergency when making their decisions.

"Regulators seem to be pushing harder and harder that landscape capacity is a bigger issue."
GreenPower International's Rob spoke to the same theme, adding:
"Twenty years ago people were cautious because they hadn't seen a wind turbine before, but now we all see wind turbines every day.

"It's important that we move to a more positive framework for the language used around renewables and accept that the public now accept turbines and want more of them."
Cabinet Secretary Ms Hyslop responded to planning concerns – which lie outside of her ministerial portfolio – by saying that she understood the economic implications planning decisions could have and saying:
"I'm keen to ensure that there is an economic overview to NPF4 and we'll take this away as an action point."
Grid charging issues which disadvantage Scottish generators were raised by a number of members. On that topic, Ms Hyslop added:
"In my discussions with BEIS I have impressed that the issue is often regulation, and that making development happen is not all about money.

"To me it seems so obvious and so clear that [the grid charging regime] has to change."
Also invited to the roundtable was Jonathan Dredge, Head of Energy Transition Policy at the Oil and Gas Authority. He called for an integrated energy system approach where the imperative was to find the lowest-carbon mix possible.
On exports and skills, Windhoist's Lynn Obi told how the company began working solely on onshore wind projects 15 years ago and has recently diversified into offshore wind, with the Beatrice project its first experience of that sector.
The company now works in 21 countries globally, has installed 7,000 turbines and is still "following our customers into new markets around the world".
Summing up the round table, the Cabinet Secretary thanked contributors for their insight and for giving her "a real sense of the burning issues that affect your industry".
She said:
"Scottish Renewables does an extremely good job bringing everyone together. I am keen that we open the tent even more widely and view renewables as central to our lives.

"We need to realise our own power: the more we tell that story to the people of Scotland the more strength it has.

"Scotland has a duty and a responsibility, because of its resources and its inheritance from oil and gas, to help the rest of the world [decarbonise], and I hope to be an ally with you in promoting that cause."