Coronavirus reflections – the Annual Conference headliner's view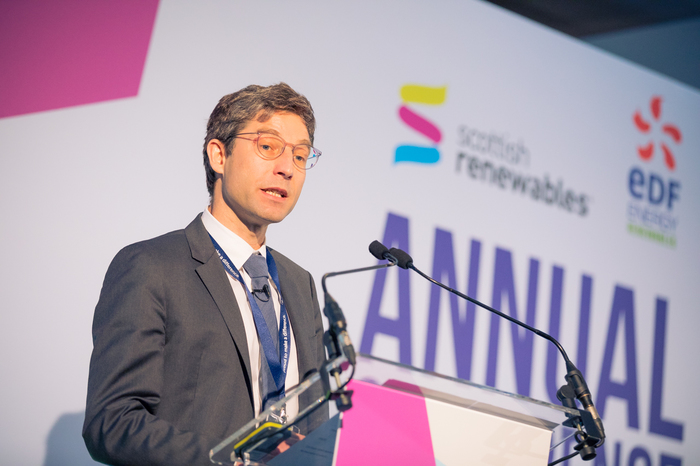 It's an understatement to say a lot has changed in 2020.
New words and phrases - 'social distancing', 'epidemiology' - have crept into everyday use.
We've seen the end of global silo culture – international problems are as much ours as theirs.
We've learned how far a sneeze travels - and what to do to stop it doing so.
And we know that when faced with an emergency which impacts day to day life, the whole world can pivot on the head of a pin.
The renewable energy industry has learned lessons, too – lessons which delegates and speakers will be sharing at our Annual Conference on September 1-3.
Matthieu Hue, CEO of headline sponsor EDF Renewables (pictured, of course at a previous event), will be giving the welcome on day one of the event:
"None of us could ever have predicted what 2020 would bring and the global pandemic has made things incredibly tough for everyone, including our industry.

"We've all been busy working to protect our people as much as we can, finding new ways of doing our jobs and continuing to develop, build, and operate our projects safely.

"But I believe some good has and will continue come from all of this.

"We have learned to make important decisions very quickly and we have made so many positive changes beyond what we thought was ever possible. That's everything from making sure those who can work from home have the right equipment, to bringing in social distancing measure on our sites or organising virtual exhibitions and consultations."

As an industry body we've seen evidence from members that involving the public in planning consultations has been much easier during coronavirus, with some reporting turnout for virtual events far beyond what could be expected for similar sessions held in person.
But it wasn't just planning processes which were affected by the global pandemic. EDF Renewables' Matthieu continues
"As you know work on operational and construction sites has been restricted because of COVID-19 and we have been working closely with our contractors to follow the Scottish Government's guidelines to make sure we keep everyone safe. To that end, it has been really encouraging to get the industry collaborating to share their experience and get some consistency.

"I am pleased to share that EDF Renewables has continued to make progress on Neart na Gaoithe, our 450MW offshore wind farm in the Firth of Forth, where offshore construction has just begun. We have also been busy finishing our 11MW Burnfoot East site in Clackmannanshire, with the turbines there now in place.

"It's been hugely important to us to reach out to the communities around our sites and reassure them about any construction work during the pandemic and to offer help through our community funds at Fallago Rig and Longpark in the Borders and at Burnfoot in Clackmannanshire."
In May this blog told how a growing number of groups were accessing and repurposing community benefit funding to support those in hardship because of the ongoing health emergency.
Since then we've been overwhelmed by other examples, including from EDF Renewables which, as Matthieu outlines, provided funding boosts across Scotland.
But what of the future?
Scottish Renewables has been working hard to place our industry at the heart of a green economic recovery – something Matthieu is focussed on, too:
"As it looks like we are (hopefully) coming out of the other side of the pandemic and the number of cases of COVID is very low in Scotland, my thoughts turn to a 'green recovery'.

"With all that has already been achieved, we can be confident we will be able to overcome the challenges and make good of the opportunities ahead, meeting our goal of building a net-zero future through electricity."
While industry has indeed pulled together to navigate the challenges posed by the coronavirus pandemic, there remains plenty to learn.
Day one of our Annual Conference, which will held for the first time online, will look at the overarching issues which affect our industry and probe more deeply into the challenges posed by not only coronavirus, but also Brexit, UK Government changes and next year's Scottish Parliament elections.
On days two and three we'll analyse the specifics more deeply, looking at how innovation can continue to drive cost reduction and how business can effect change in the planning system to facilitate deployment as we wait for the delayed National Planning Framework 4.
And over all this, of course, sits COP26 - truly a chance to shine a light on Scotland's experience in decarbonising while maintaining economic growth - and the accelerating transition away from an energy system powered by fossil fuels.