Scotland's largest offshore wind farm wins at Scottish Green Energy Awards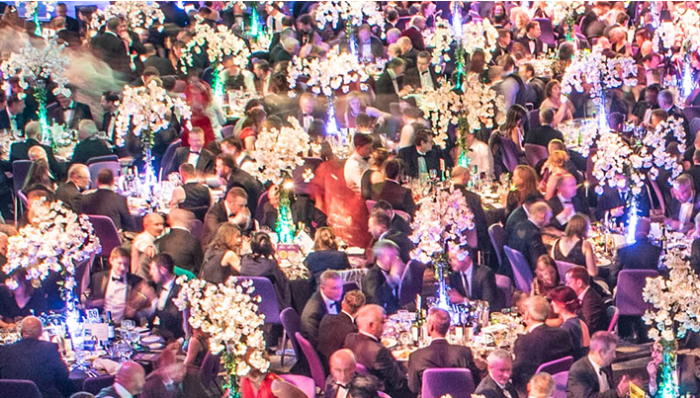 Beatrice Offshore Wind Farm, the largest in Scotland, has been handed a top award by Scotland's renewable energy industry.
The 588MW, £2.6 billion wind farm was shortlisted three times for its engagement with local communities; its innovative installation techniques and for its world-leading safety standards.
The Scottish Green Energy Awards, which took place in Edinburgh last night (December 5), saw winners in 12 categories receive trophies recognising their work in the sector, which employs 17,700 people.
Among them:
Balfour Beatty, Dundee City Council and ESB scooped the Carbon Reduction Award for the Caird Park Low Carbon District Energy Hub – a hybrid ground source heat pump, powered by a mix of renewables which supplies a district heating network to warm a large proportion of Dundee's social housing.
Pict Offshore took home the Best Innovation Award for its transformative Get up Safe system, which provides ladder-free access to offshore wind turbines, increasing accessibility and significantly reducing costs.
Aberdeen City Council was recognised for its commitment to reducing carbon emissions, through developing the city's hydrogen transport economy and supply chain, taking home the Sustainable Development Award.
Last night's winners were selected by a panel of 12 judges from a shortlist of 44.
Claire Mack, Chief Executive of Scottish Renewables, said:
"Once again, the Scottish Green Energy Awards showcase the truly incredible innovation, drive and passion of those working within our industry.

"The diverse range of projects shortlisted tonight highlights the phenomenal skillset of our industry – one which continues to push the boundaries of innovation, maintaining Scotland's place as a world leader in renewable energy.

"The commitment, knowledge and hard work of those within the industry is making a significant positive impact on Scotland's economy as we continue to mitigate carbon emissions and work towards achieving net zero by 2045.

"The Scottish Green Energy Awards is the perfect place to come together to celebrate the achievements of our industry and the inspirational people and organisations within it. My congratulations go to all nominees, and of course the winners."
The 2019 Scottish Green Energy Awards was headline-sponsored by EDF Renewables.
EDF Renewables' CEO Matthieu Hue said:
"This year's awards have been the biggest and best we have seen so far and I would like to congratulate all the very worthy winners of the awards. It is clear to me that together as an industry we are a force for good, working as hard as we can to decarbonise our sector.

"We focus on building great projects as well as making the most of existing renewables and are always looking at new and better ways to make a difference."
The full list of winners is:
Young and Inspiring Award, sponsored by WSP: Ethan Glencross, Renewable Parts
Best Practice Award, sponsored by Natural Power: Scottish and Southern Electricity Networks for Biodiversity Net Gain Approach and Site Optioneering Toolkit
Best Engagement Award, sponsored by Xodus Group: Fife Council for Glenrothes Energy Network
Best Innovation Award, sponsored by Red Rock Power Limited: Pict Offshore for the Get up Safe system
Contribution to Skills Award, sponsored by Scottish Government (Scottish National Investment Bank): ESP for Wind and Marine Training Network
Sustainable Development Award, sponsored by ABB: Aberdeen City Council for hydrogen strategy
Champion of Renewables Award, sponsored by National Grid ESO: Dave Pearson, Star Renewable Energy
Best Community Project Award, sponsored by SSE Renewables: Canna Renewable Energy and Electrification Limited for The CREE Project, Isle of Canna
Carbon Reduction Award, sponsored by SmartestEnergy: Balfour Beatty, Dundee City Council and ESBfor Caird Park Low Carbon District Energy Hub
Outstanding Service Award, sponsored by Aberdeen Renewable Energy Group: Green Marine
Outstanding Project Award, sponsored by innogy Renewables UK Ltd: SP Energy Networks for Green Economy Fund
Judges Award: Beatrice Offshore Windfarm
Outstanding Contribution Award, sponsored by Highlands and Islands Enterprise: Paul Wheelhouse MSP, Minister for Energy, Connectivity and the Islands, Scottish Government
Ends
The 2019 Scottish Green Energy Awards judging panel included representatives from sponsors ABB, Aberdeen Renewable Energy Group, Highlands & Islands Enterprise, innogy Renewables UK Ltd, National Grid ESO, Natural Power, Red Rock Power Limited, Scottish Government (Scottish National Investment Bank), SmartestEnergy, SSE Renewables, WSP and Xodus Group.
The event was also sponsored by ASH design+assessment, EICC, Green Investment Group, MacArthur Green, Muirhall Energy, Oceaneering, reNews, RES, RPS, Scottish Investment Bank, Scottish & Southern Electricity Networks, Siemens Gamesa, WWS and 3sun Group.
A summary of shortlisted entries is available here.
Contact Laura Russell, Scottish Renewables' Communications Officer, for professional images from the event.