Green power boost for Scotland in UK power auction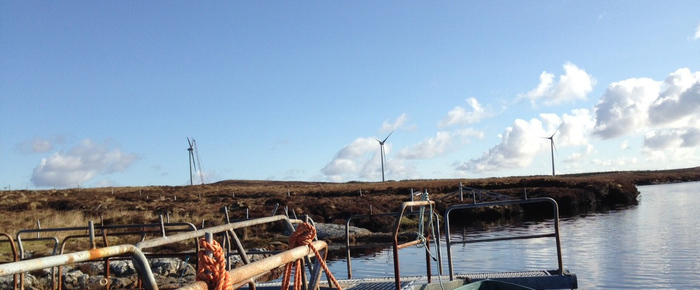 Scotland's remote islands will become a green energy powerhouse following the results of a UK Government clean power auction this morning (Sept 20).
More than 270MW of onshore wind projects on the Isle of Lewis and in Orkney won contracts to sell the power they will generate – at record-low prices.
The projects, which could now be built by 2025, will generate enough electricity to power the equivalent of 265,000 homes.
The Seagreen offshore wind farm, 17 miles off the Angus coast, also won a Contract for Difference to deliver 454MW of capacity, boosting Scotland's rapidly-expanding offshore wind fleet.
Changes made to rules which had forbidden all onshore wind projects from competing in the electricity market in 2018 meant projects in the Western Isles, Shetland and Orkney were able to compete.
Today, four of those won crucial contracts from the UK Government:
Muaitheabhal Wind Farm (Isle of Lewis, 189MW)
Druim Leathann Windfarm (Isle of Lewis, 49.5MW)
Hesta Head Wind Farm (Orkney, 20.4MW)
Costa Head Wind Farm (Orkney, 16.32MW)
Scottish Renewables Chief Executive Claire Mack said:
"Scotland's islands have some of the best wind resource in Europe and the decision to award contracts to four projects today will mean economic, social and environmental benefits for communities in the Western Isles, Orkney.

"The record-low prices which have been achieved also mean more value for consumers, with island wind matching the price achieved by offshore projects. Today's results show just how affordable wind power can be when given the chance to compete in the energy market.

"Wind power projects are lengthy commitments between developers and the communities where they are built: construction jobs are important, but it's crucial to remember that wind farms require maintenance, and the supply chain companies which form and grow to deliver these projects will enjoy guaranteed work throughout their lifetimes.

"Scottish Renewables was proud to work closely with island councils and the Scottish Government to secure access to the Contracts for Difference mechanism for remote island onshore wind projects last year (2018), and today's announcement is a testament to those efforts."
The Seagreen Offshore Wind Farm received a contract to generate power at just £41.61. That's almost a third less than the cost of offshore wind in the previous auction, held in 2017.
Also receiving a contract was the Forthwind Offshore Wind Demonstration Project in the Firth of Forth at Methil, Fife.
Scottish Renewables Chief Executive Ms Mack added:
"Scotland's offshore wind resource is tremendous, and we're now starting to see the economic and environmental benefits of tapping it.

"We're also in the vanguard of offshore wind technology development, and the Forthwind project will cement Scotland's reputation as a hotbed of offshore wind innovation which could contribute to ever greater cost reductions in future."
The Viking Wind Farm in Shetland did not receive a contract to sell its power, so cannot go ahead at present – putting the future of the islands' interconnector cable in jeopardy. Ofgem has also yet to determine if the vital proposal from SHEPD to contribute to the interconnector can proceed.
Ms Mack added:
"This is a disappointment among a day of great news for Scotland's other island communities.

"The loss of the socio-economic benefit associated with the build and operation of the wind farm are one thing, but the new grid connection designed to support the project would have also created the opportunity for other projects to develop, serving the energy needs of the local community."