Buses, bicycles and breathing better air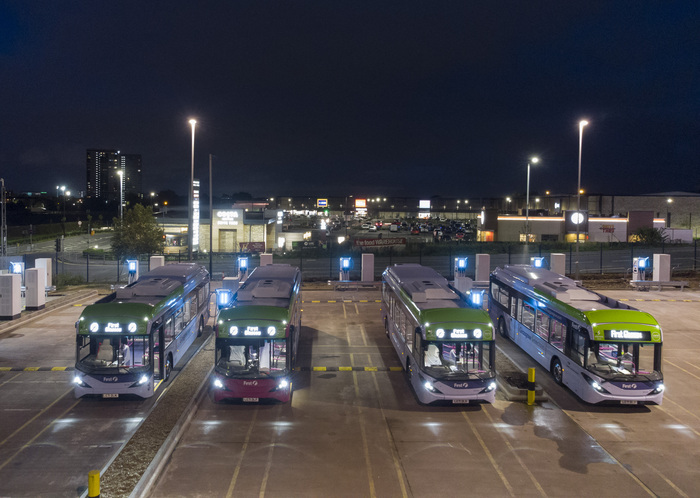 British historian Robert Lacey said: "Of all the varieties of modern pollution, noise is the most insidious".
He has a point.
Glasgow city centre isn't blessed with green space.
Mostly, people and vehicles exist cheek-by-jowl.
The deafening roar of diesel buses has become a background to the city, their clouds of blue smoke a veil through which we wander.
Mostly, we're oblivious to the damage both sound waves and microscopic sooty particles are doing to our bodies.
But the days of those particles and sound waves have been numbered for a while now.
We are on the cusp of a new transportation era. The internal combustion engine has had its day and the race is on to develop the vital technology and infrastructure to ensure we reach net-zero.
Pioneering projects are leading the way and it is a matter of time before supply chains, academic institutions, local authorities and individuals have adapted too.
With transport currently accounting for a quarter of Scottish emissions, we need to get our skates on.
Glasgow's Low Emission Zone was introduced for buses in December 2018, and for everyone else on May 31, 2022, with a one-year grace period - meaning that enforcement will start on June 1, 2023.
In 2019, 7% of journeys in the UK were made by bus E. Exiting developments in alternative fuels are already showing great results with both hydrogen and electric power demonstrating they are feasible methods of transporting our local citizens around our cities and towns.
Scotland's bus operators have responded to the low-emission zone by replacing dirty diesel with smooth, silent electric power – much of it generated by renewable energy projects like Whitelee Windfarm, the UK's largest onshore site, 11 miles to the south of the city, and the powerful Sloy/Awe hydro scheme on Loch Lomondside.
For Nick Sharpe, Scottish Renewables' Director of Communications and Strategy, that's manna from heaven:
"I'm a regular cyclist, both for commuting and pleasure, and for years the buses have been one of the main disincentives to getting in the saddle in Glasgow city centre.

"Glasgow's streets are a grid, so the city's blessed with lots of traffic lights. Get behind a diesel bus at those lights, particularly going up a hill like Hope Street, and when they turn green everyone behind, from pedestrians on the pavements to me in the carriageway on my folding bike, are engulfed in a cloud of blue smoke.

"And that's not to mention the noise, which echoes up the tenements on either side of what air quality experts call 'street canyons'."
In fact, Glasgow's Hope Street has bagged the title of Scotland's most polluted street, largely because of that street canyon effect, where breezes can't dissipate the pollution caused by buses and cars.
Nick added:
"The electric buses have – excuse the pun – been a breath of fresh air. They look very similar to the diesel buses so it comes as a regular pleasant surprise when they accelerate away from a stop or junction with barely a whisper, and of course not a hint of blue smoke.

"Hopefully cleaner air and quieter streets will encourage more people to cycle in Glasgow in future. All that needs sorting now are the potholes, and the roadworks, and of course the weather."
Scottish Renewables spoke with First Group Programme Manager Jude Balfour, who's spearheading the city's drive to electric buses.
She said:
"FirstGroup recently announced that it was the first UK bus and rail operator to formally commit to setting an ambitious target to achieve net-zero emissions. This announcement advances on our pledge to invest in only zero-emission vehicles from December 2022, and to operate a 100% zero-emission fleet by 2035.

"Bus pricing, electricity availability and the cost of infrastructure are significant barriers, however, thanks to collaboration with Scottish Power Energy Networks, the first two electric buses were delivered to First Glasgow in December 2019.

"Buses are the arteries of our towns and cities, linking people to the many places they need to get to as part of modern life. Although established routines have been challenged during the pandemic, the importance of the bus has risen, spurred on by the transporting of key workers or by people using them for their critical journeys to health facilities or supermarkets.

"As operators switching to zero emission fleets will help improve air quality, upskill our teams, support our journey to net-zero and hopefully reduce the total cost of bus ownership to boot."
Pic: First Bus Glasgow