Shortlist revealed for new Net-Zero Energy Transition Awards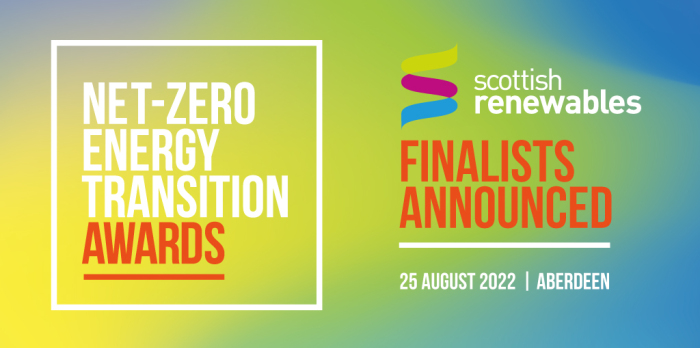 The finalists for Scottish Renewables' inaugural Net-Zero Energy Transition Awards, headline sponsored by TotalEnergies, can be revealed today (July 19).
Taking place in Aberdeen on August 25, the black-tie awards will see 34 individuals, companies and projects that are delivering the energy transition compete to scoop prizes in eight categories recognising activities across industry, community and individual efforts.
The full shortlist can be viewed on Scottish Renewables' website and is detailed at the end of this press release.
Some examples are:
Energy Saving Trust for its Sustainable Energy Supply Chain Programme which is supporting businesses, particularly SMEs, in the downstream supply chain to transition workforces from fossil fuels to net-zero carbon technologies.
Paul O'Brien from Highlands and Islands Enterprise for creating the DeepWind Cluster, the largest offshore wind representative body in Scotland, that is helping its 715 members benefit from the growing offshore wind sector.
Peterson Energy Logistics for its commitment to improving its sustainability through reducing its total emissions by 42% in seven years and implementing a vessel sharing model in the North Sea with an estimated annual reduction in carbon emissions of 64,000 tonnes.
Innovative start-up ReBlade, the first specialist turbine blade and nacelle decommissioning service in the UK, that is solving the turbine blade waste problem through non-destructive and non-landfill processes.
Claire Mack, Chief Executive of Scottish Renewables, said:
"I am absolutely thrilled by the number and quality of nominations we have received for this new award ceremony. Our judges struggled to pick the shortlist from the 85 nominations we received, let alone the winners.

"Delivering the energy transition projects we need to reduce our carbon emissions, re-skill and re-shape our workforce and reach our climate targets is a huge task, but one that offers enormous economic and environmental benefits. Our shortlist represents the innovation, skills and engineering know-how of Scotland's diverse supplier network that is tackling this challenge head on.

"I am very much looking forward to raising a glass in August to celebrate those playing a key role in supporting Scotland's journey to a new, net-zero energy system."
The full shortlist is:
PEOPLE AND CULTURE AWARD,
sponsored by the Engineering Construction Industry Training Board (ECITB)
Laura Fairley, ORE Catapult
Sakshi Sircar, Net Zero Technology Centre
SSEN Transmission HR Team
Fulkrum
GREEN ENERGY SKILLS AWARD,
sponsored by OPITO
Borders College
Energy Saving Trust for the Sustainable Energy Supply Chain Programme
Subsea 7
X-Academy
GREEN BUSINESS GROWTH AWARD,
sponsored by Energy Transition Zone Ltd
Forth Ports
Taylor Hopkinson
Motive Offshore
Verlume
SUPPLIER SUSTAINABILITY AWARD
Natural Power
Peterson Energy Logistics
Port of Aberdeen
Sulmara
SUPPLY CHAIN CHAMPION AWARD
Sian Lloyd Rees, Aker Offshore Wind
Isla Robb, EC20
Paul O'Brien, Highlands and Islands Enterprise
Julia Roope, Fugro
David Webster, Forth Ports
BEST PRACTICE AWARD,
sponsored by Subsea 7
Aberdeen City Council
Fugro
SSEN Transmission
Fiona Becker, ScottishPower Renewables
START-UP AWARD,
sponsored by Highlands and Islands Enterprise & Wave Energy Scotland
EnergyVue Services
PPAYA
ReBlade
X-Academy
TECHNOLOGY & BUSINESS INNOVATION AWARD,
sponsored by Aspect Reputation
Fugro
MJR Power & Automation
Siemens Gamesa Renewable Energy for RecyclableBlade
Verlume
Wave Energy Scotland
Prior to the awards ceremony Scottish Renewables will also be holding an event for businesses which want to play a part in Scotland's offshore wind future.
The Energy Transition Seminar: An intro to offshore wind will take place on August 24 in Aberdeen and will equip organisations with the knowledge they need to start or continue its interest in offshore wind, covering everything from policy, planning and consenting to operational delivery and the technology itself.
Full details for both events are available on Scottish Renewables' website.
Ends
Notes:
More information on the Net-Zero Energy Transition Awards is available here.
The Net-Zero Energy Transition Awards is headline-sponsored by TotalEnergies and held in association with the Aberdeen Renewable Energy Group. Award category sponsors are Aspect Reputation, Engineering Construction Industry Training Board (ECITB), Energy Transition Zone, Highlands and Islands Enterprise, OPITO, Subsea 7 and Wave Energy Scotland. Event supporters are ETP, Global Underwater Hub, the official media partner is reNEWS and the media supporter is OGV Energy.
The awards' judging panel was made up of representatives of sponsor companies.
Information on the Energy Transition Seminar: An intro to offshore wind is available here.