Auction delivers 3GW of clean energy for Scotland – with tidal power projects winning contracts for first time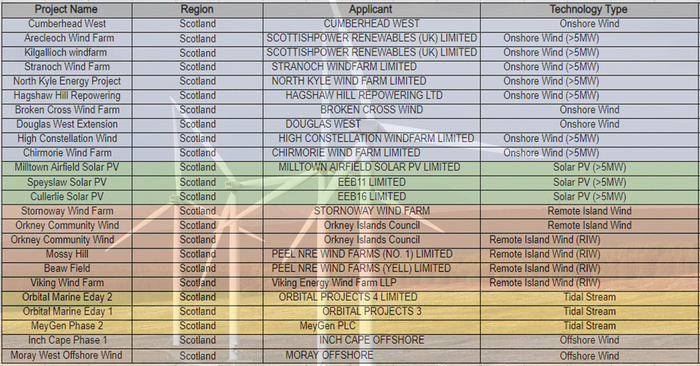 Scottish renewable energy projects won contracts to sell their power in a vital UK auction today – at record low prices.
Offshore, two projects off Scotland's east coast won Contracts for Difference in a competitive UK Government auction process – at just £37.35 per megawatt-hour, 6% cheaper than in previous auctions.
Onshore wind re-entered the energy market seven years after a ban saw projects stalled. Wind projects on Scotland's remote islands also won contracts which will help make the case for new cables, further adding to the economic benefits delivered by renewables in Scotland.
And tidal power, in which Scotland leads the world, is also now competing in annual auctions, with 35MW of projects in Caithness and Orkney and 5MW in Wales granted contracts today.
Claire Mack, Chief Executive of Scottish Renewables, told how the prices achieved today "showed how competitive renewable energy can be with the right government support" – but warned: "it is important that government understands the reality of building projects at these very low prices".
On offshore wind, she said:
"Scotland's offshore wind potential was outlined by the recent ScotWind round, through which 17 projects received seabed leases. That new capacity, which could reach 25GW, would bring up to £24.9 billion into the Scottish economy, as well as creating tens of thousands of jobs.

"The benefits to Scottish communities which stem from this will be transformational: projects which were recently awarded seabed leases have committed to invest in Scotland – and specifically in supply chain businesses – on a scale never seen before, in any industry. This investment will deliver tens of thousands of skilled jobs, allow Scottish firms to compete in the global offshore wind market and revitalise communities which currently rely on seasonal tourism.

"While these results are positive for Scotland it is important that government understands the reality of building projects at these very low prices. Industry has said for many years that it is committed to investing in the UK supply chain, where prices are generally higher. Doing so is made much harder by the need to drive down costs in the Contracts for Difference mechanism's competitive auction process and we would urge government to consider CfD reform away from pure cost reduction to ensure that resilience and sustainability can be embedded in the UK supply chain."
At the price achieved today (£178.54), tidal power is able to compete with other energy generation technologies – but industry body Scottish Renewables warned more must be done to ensure the sector's future.
On tidal power, Chief Executive Claire Mack continued:
"Make no mistake, today's auction results are a turning point for tidal power, showing as they do that it has a place in the UK's energy mix.

"But while the prices achieved in this most recent auction are an incredible milestone, it must be remembered that tidal energy is still in a developmental phase and most developers will be unable to bid so low in future. We would therefore urge the UK Government to confirm that its plans for future auction rounds include a dedicated, ring-fenced budget for tidal stream projects and also to commit to reforming the Contracts for Difference mechanism to allow UK supply chain companies to be more competitive."
Onshore, 1.5GW of wind power achieved contracts to sell power in Scotland at £42.47 per MWh. Remote island wind projects in Orkney, Shetland and the Isle of Lewis also won, at £46.39 per MWh.
On onshore wind, Scottish Renewables' Claire Mack continued:
"Onshore wind provides the bulk of Scotland's renewable electricity capacity cheaply, predictably and alongside a whole raft of other social, environmental and economic benefits.

"The sector employs 8,800 people across our country, from the central belt to the Borders, Highlands and Islands. These are skilled jobs which bring prosperity and investment to communities where opportunities for this type of employment would otherwise not exist.

"Remote island wind in particular has a superb story to tell here, and the developments which have achieved contracts today will bring new investment and jobs to communities which have waited for many years for them to proceed.

"Onshore wind is one of the fastest ways of getting new power generation onto the grid, and if planning in Scotland is reformed to align with the climate emergency this sector can grow rapidly to continue mitigating the effects of climate change."
78MW of Scottish solar power also won contracts in the auction.
Looking forward, Scottish Renewables told how the future of the CfD must be focused on imperatives other than just cost reduction.
CEO Claire Mack said:
"The Contracts for Difference mechanism has been incredibly successful in driving down the cost of electricity, and we can see from today's results how competitive renewable energy can be with the right government support.

"But it is clear that we have seen some unusual outcomes in terms of price which demonstrate that there is a need to look at how the costs generators are facing to get clean electricity to consumers are influencing the picture.

"Cost reduction may seem positive but the pressures of inflation, commodity prices and other external pressures mean costs are increasing across the energy industry. Renewable power, and particularly offshore wind power, faces other imperatives, too.

"If we want to see a successful UK supply chain competing with the rest of the world to help build UK offshore wind farms, developers of those projects must have more financial leeway to invest locally. The CfD should therefore move away from focusing exclusively on procuring the cheapest electricity possible and instead aim to ensure that renewable energy projects deliver economic benefits to the UK throughout their entire value chain.

"The low cost of technologies like offshore wind also mean that the imposition of caps on the amount of capacity which is able to be delivered by each auction is outdated: in the main, renewables now pay money back to the Treasury over the life of a Contract for Difference, and it is common sense to now remove these caps from coming auction rounds.

"Overall, we welcomed the government's commitment to hold CfD auctions annually and look forward to hearing confirmed details of that process as soon as possible."
Full results in Scotland are:
Onshore Wind (Strike Price: £42.47/MWh)
Cumberhead West (119.70MW)
Arecleoch Wind Farm Extension (74.10MW)
Kilgallioch windfarm extension (51.30MW)
Stranoch Wind Farm (99.96MW)
North Kyle Energy Project (212.00MW)
Hagshaw Hill Repowering (79.80MW)
Broken Cross Wind Farm (48.00MW)
Douglas West Extension (71.50MW)
High Constellation Wind Farm (50.00MW)
Chirmorie Wind Farm (81.60MW)
Solar Photovoltaic (Strike Price: £45.99/MWh)
Milltown Airfield Solar PV (49.90MW)
Speyslaw Solar PV (20.00MW)
Cullerlie Solar PV (8.75MW)
Remote Island Wind (Strike Price: £46.39/MWh)
Stornoway Wind Farm (200.00 MW)
"Orkney Community Wind
Farm Project - Hoy" (28.80MW)
Orkney Community Wind Farm Project - Quanterness (28.80MW)
Mossy Hill (48.00MW)
Beaw Field (72.00MW)
Viking Wind Farm (220.00MW)
Tidal Stream (Strike Price: £178.54/MWh)
Orbital Marine Eday 2 (4.80MW)
Orbital Marine Eday 1 (2.40MW)
MeyGen Phase 2 (28.00 MW)
Offshore Wind (Strike Price: £37.35/MWh)
Inch Cape Phase 1 (1080.00MW)
Moray West Offshore Wind Farm (294.00 MW)
Ends
Notes: