New faces join Scottish Renewables' Board of Directors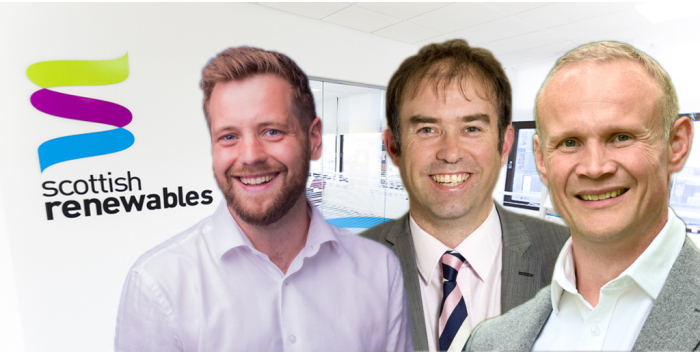 Industry body Scottish Renewables, the voice of Scotland's renewable energy sector, has welcomed three new Directors to its Board.
The trio will help guide the organisation as it works to grow Scotland's renewable energy sector and sustain its position at the forefront of the global clean energy industry.
Two of the newly appointed Directors were elected from a pool of 12 candidates from among Scottish Renewables' 300 member companies to serve a three-year term.
They are:
Finley Becks-Phelps, UK Development Director at Fred. Olsen Renewables, who brings extensive knowledge of the onshore wind, solar and wave and tidal sectors, having worked on many successful projects over more than 10 years in the renewable energy industry.
Jamie Maxton, Head of External Relations (Scotland) at SSE Renewables, who has more than 20 years' experience delivering successful political advocacy campaigns and brings an in depth understanding of the policy and political challenges facing the industry.
Scottish Renewables' Board is also strengthened with the addition of co-opted members who serve for shorter terms, with one new Director welcomed this year.
He is:
Iain Sinclair, Executive Director at Global Energy Group, who has 20 years' experience in renewable energy and will support the organisation's supply chain work over the coming year.
Iain joins Clare Lavelle from Arup, Independent Industry Consultant Ronnie Bonnar, Jennifer Ballantyne from Pinsent Masons and Chris Milne from Orbital Marine Power, who continue as co-opted Directors having previously served in 2021.
Adam Morrison, Chair of Scottish Renewables, said:
"Once again our member companies have had a chance to shape the leadership of Scotland's renewable energy industry as we continue to work to achieve our climate ambitions.

"Finley, Jamie and Iain bring significant expertise and experience to the Board across a range of sectors and technologies, which will be invaluable in the year ahead as renewable energy continues to play a key role at the heart of the Scottish economy.

"I look forward to working with the new Directors, as well as our existing Board members, as we guide the future of our organisation at this crucial time for our industry as we head towards achieving our net-zero targets."
Ends
Notes:
Scottish Renewables' Election process is overseen and supported by John Morrison of Shepherd and Wedderburn in his capacity as Company Secretary.
The full list of Scottish Renewables Board members are: Adam Morrison, Ocean Winds (Chair); Andrew Lyle; Locogen; Jennifer Ballantyne, Pinsent Masons; Finley Becks-Phelps, Fred.Olsen Renewables; Ronnie Bonnar, Independent Industry Consultant; Nicola Cawford-Percival, RWE Renewables; Mike Hay, RIDG; Clare Lavelle, Arup; Jamie Maxton, SSE Renewables; Chris Milne, Orbital Marine Power; Jeremy Sainsbury, Natural Power; Iain Sinclair, Global Energy Group and Kate Turner, ScottishPower Renewables. One third of the Board positions come up for re-election each year.