£106 million wind power rates windfall revealed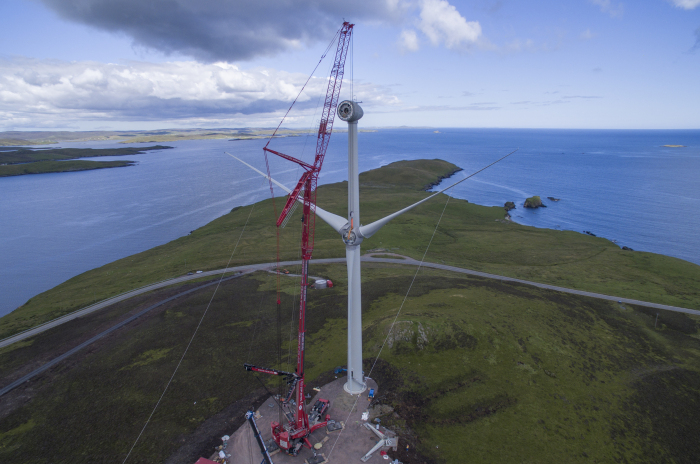 More than £106 million a year in business rates payments flows into Scotland's economy, new figures show.
The money is enough to educate almost 14,000 secondary school children or build more than 750 council houses.
Business rates are paid by power projects in the same way as any other business and are a tax on non-domestic properties to help pay for local council services. These include services like education, social care and waste management.
Onshore wind schemes in Highland Council's area alone contribute more than £23 million every year, with projects in South Lanarkshire bringing in more than £15 million, a new study by industry body Scottish Renewables has shown.
Claire Mack, Chief Executive of Scottish Renewables, told how the rates payments were "just one part of the onshore wind industry's contribution to Scotland's economy".
She said:
"Onshore wind is the backbone of Scotland's electricity system, producing the equivalent of 60.2% of our electricity demand and employing almost 9,000 people.

"These new figures show just one part of the onshore wind industry's contribution to Scotland's economy – but one which is hidden from public view and often overlooked when the benefits of these developments are discussed.

"Money also flows into local businesses from onshore wind farm construction and maintenance, with projects adding £2.4 billion to Scotland's economy in 2019. Developers also make more than £22 million a year in voluntary community benefit payments, which local people can spend on projects which matter to their area.

"Business rates are just one more example of the benefits onshore wind projects bring to some of the most remote parts of our country at a time when investment there is badly needed."
The results of the research show that onshore wind power projects in the Highland Council region contribute the most business rates, followed by those in South Lanarkshire and Dumfries and Galloway:
Local authority

Onshore wind
capacity (MW)

Rates paid (£)

Highland

1822.24

23,233,522

South Lanarkshire

1194.40

15,228,613

Dumfries & Galloway

676.16

8,621,066

South Ayrshire

652.02

8,313,281

Scottish Borders

641.42

8,178,054

Aberdeenshire

509.60

6,497,400

Moray

501.16

6,389,816

East Ayrshire

368.13

4,693,658

East Renfrewshire

361.06

4,603,451

Argyll & Bute

341.45

4,353,539

Perth & Kinross

310.47

3,958,480

Stirling

157.09

2,002,923

East Lothian

134.58

1,715,908

North Ayrshire

112.85

1,438,889

West Lothian

105.10

1,339,987

Fife

97.45

1,242,488

Orkney Islands

51.33

654,496

Midlothian

49.96

636,939

Eilean Siar

46.10

587,813

Clackmannanshire

42.41

540,740

Falkirk

41.63

530,744

Inverclyde

26.42

336,906

North Lanarkshire

24.35

310,463

Angus

18.87

240,542

Shetland Islands

13.81

176,129

Glasgow City

3.05

38,926

Aberdeen City

1.44

18,322

Dundee City

0.10

1,275

City of Edinburgh

0.10

1,250

Renfrewshire

0.01

179

East Dunbartonshire

0.01

140

West Dunbartonshire

0.00

0
Research by Scottish Renewables in 2018 showed almost seven in ten Scots living in rural areas (66%) support the use of onshore wind energy, with 22% saying they have no opinion or don't know and only 11% opposed to new onshore wind farms.
Ends
Notes
Figures for business rates paid are based on data provided by RES and calculated per megawatt (MW). Average figures for rateable value are around £25-£27,000/MW, with actual rates payable £12,750-£13,770/MW pa.
The table shows the business rates collected by each local authority – it does not reflect the actual rates that are retained as these are pooled centrally and distributed by The Scottish Government as part of general revenue grant.
Onshore wind capacity by local authority area taken from the Scottish Energy Statistics Hub.
Onshore wind added £2.4 billion to Scotland's economy in 2019, the most recent year for which figures are available.
Onshore wind employs 8,780 people in Scotland.
Information on the amount of electricity generated by onshore wind projects is available from the Scottish Energy Statistics Hub
Research by Scottish Renewables which showed the popularity of onshore wind farms in rural areas is available on our website.
In 2021–22, spending per pupil is expected to total £7,600 per pupil in Scotland. Source: Institute for Fiscal Studies.
Image credit: Paul Riddell