The call of the wind - an alluring opportunity for Scotland's supply chain.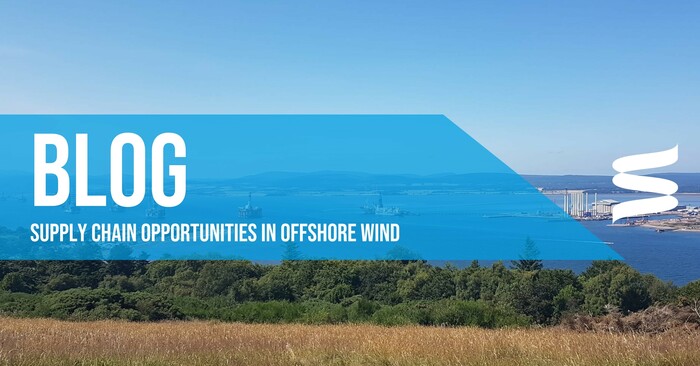 The expansion of renewable energy capacity, across the UK, is unprecedented.
Technological advancement, private investment and emissions reduction targets have accelerated the industry and now it is the supply chain's turn for transformation.
And there are some big numbers on the horizon for Scotland.
The energy transition presents a vast opportunity and a pipeline chock full of potential contracts is in view.
Many of the projects which will be delivered through the ongoing ScotWind leasing round have ambitious local content aspirations, so strong Scottish supply chain businesses stand to benefit as they roll out.
Recent reports released by the Offshore Renewable Energy Catapult highlight that there is no shortage of work to be delivered in offshore wind in Scotland.
Building 10GW of Scottish offshore wind by 2030 will depend not only on policy and commitment from developers to drive projects, but on a whole raft of skilled, experienced, innovative suppliers, too.
From steel fabrication and offshore inspection services to civil engineering, turbine marshalling and even accommodation services, there are countless scopes of work to be tendered for, won and executed.
The recent ORE Catapult ScotWind predictions report suggests the scale of the Capex opportunity to come from the Crown Estate Scotland's current leasing round is immense.
The volume of offshore infrastructure needed to meet 10GW by 2030 equates to approximately:
659 turbines

21-98 monopiles

79-157 jackets

469 floating foundations

1,295km of cabling (that's enough to stretch across to Reykjavik)
Each major package of work is made up of many sub-components and services, meaning there is much more activity up for grabs than simply "floating foundations".
Secondary steel work, marine and transportation services, component supply, dynamic cable protection, mooring systems, security and even catering to name a few. These translate into a very attractive market for a diverse range of supply chain companies.
In addition to this wealth of capex opportunity, the provision of long-term operations and maintenance (O&M) services also presents huge potential for the supply chain. Expected to grow faster than any other offshore wind sub sector over the next decade, O&M is not only appealing domestically but also opens a door to export beyond the UK, too.
With the global O&M market projected to be worth £9 billion per year by 2030, the size of the prize is driving supply chain companies to work on positioning themselves now with innovative attractive market offerings.
Emma Harrick, Energy Transition and Supply Chain Manager said:
"We know that there is work to be won all through the supply chain, not just at the top tiers. Many companies don't realise that offshore wind is a market they could be part of, and they often struggle in knowing where to start.

"To tap into the potential orderbook suppliers should work on raising their profile and building their network. Buyers are interested in smart solutions, so companies should think about ways to become more competitive through diversification, training, facility enhancements, innovation and process improvements.

"Support from industry and policy is equally essential, and there is already a variety of funding and support available, which can be accessed through programmes like the Offshore Wind Growth Partnership.

"The ScotWind leasing process now incorporates a commitment to local supply chain, through the Supply Chain Development Statements, bringing much needed certainty to the complex development process.

"Project developers are working hard to foster local supply chain growth as well, however for the Scottish supply chain to succeed, increased collaboration across the industry is paramount.

"The Strategic Investment Assessment published by the Scottish Offshore Wind Energy Council (SOWEC) this month highlights the need for true cooperation alongside strategic investment if we are to deliver a major green industrial expansion for Scotland."
Oil and gas suppliers, too, have a part to play in offshore wind's rapid expansion.
Emma continues:
"It is also important that the industry supports oil and gas suppliers through the energy transition.

"Their track record in harsh offshore environments coupled with complex project management experience and operational expertise has developed over many years, and they can offer unique solutions to new projects like floating wind.

"Ultimately to achieve their goal of providing clean renewable energy, project developers rely upon a large network of specialist, experienced suppliers.

"Look at First Subsea who have moved away from their origins in the fossil fuel market to now working almost exclusively in renewables. Their cable protection systems provide a solution to the challenging environmental conditions of offshore wind projects and they have recently secured £12m of export orders, whilst making use of the support on offer from UK Export Finance.

"With industry awaiting sight of the UK Government's plans for its next Contracts for Difference auction round, there's much to play for in offshore wind in Scotland.

"An ambitious auction would mean more opportunities for the supply chain, providing suppliers with the ability to make the necessary investments and to gain the fundamental experience needed to prosper from the future pipeline of renewables projects.

"After all, there is lots of work to be done and the development of our local supply chain will be vital to achieving a just energy transition."
To learn more, join Scottish renewables on September 15-16 in Aberdeen, at our two-day Floating Offshore Wind Conference.
Members can also sign up to our new Supply Chain Forum for industry updates and progress on our ongoing work to ensure renewable energy is at the heart of the energy transition.