How renewable energy is democratising access to Scotland's outdoors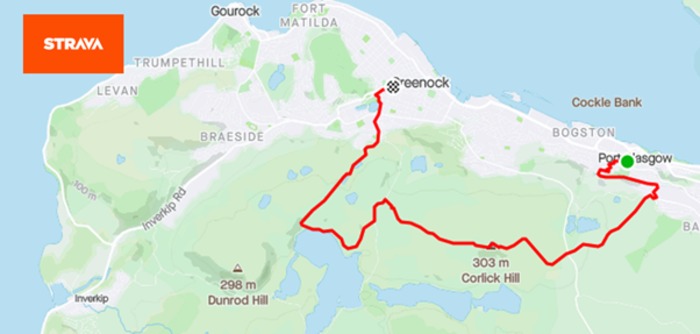 Seven years ago, as I dragged my bike through boggy moorland near my home in the west of Scotland, a new structure loomed out of the mist.
It was, I later discovered, a meteorological monitoring mast erected by a renewable energy company to test wind speeds before construction of a new wind farm.
The site in question, Corlic Hill, was rarely visited, despite being just an afternoon's walk from the centre of a large town - and views from the summit which stretch from the Erskine Bridge to the mountains of Argyll.
In fact, as I'd discovered on that damp day in 2014, the path across the moor was barely passable, and frequented only by sheep and the occasional hardy walker.
Fast forward to 2020: lockdown left the country without foreign holidays; shopping centres, soft plays and swimming pools closed and travel restrictions forced us to learn every path within a handful of miles of our front doors.
On a winter day on the high road across the moor between the Clyde and Renfrewshire, fresh activity had appeared. A dozen cars were parked at a roadside gate. New tracks led off in both directions and eight new ENERCON turbines spun in the freezing wind.
The boggy sheep fields of 2014 were accessible. Corlic Hill beckoned: I could already see ant-like figures dotted around the trig point.
Turning my wheel uphill I slogged through an inch of lying snow, passing the turbines and keeping an eye on the summit for direction as turnoffs came and went. At the top, the access road ends and 200 yards of new path, installed by the project's developer, leads up almost to the trig point at NS2905472866, Corlic Hill's 303-metre summit.
Around me a handful of well-wrapped folk admired the view, snapping pictures and the odd selfie.
There are always others on Corlic Hill now – families, like mine, with balance bikes, dogs and prams; runners; walkers often linking in with nearby Clyde Muirshiel Regional Park, and always the tracks of mountain bikes pressed into the soft mud.
Hey, the hill even has its own Instagram hashtag.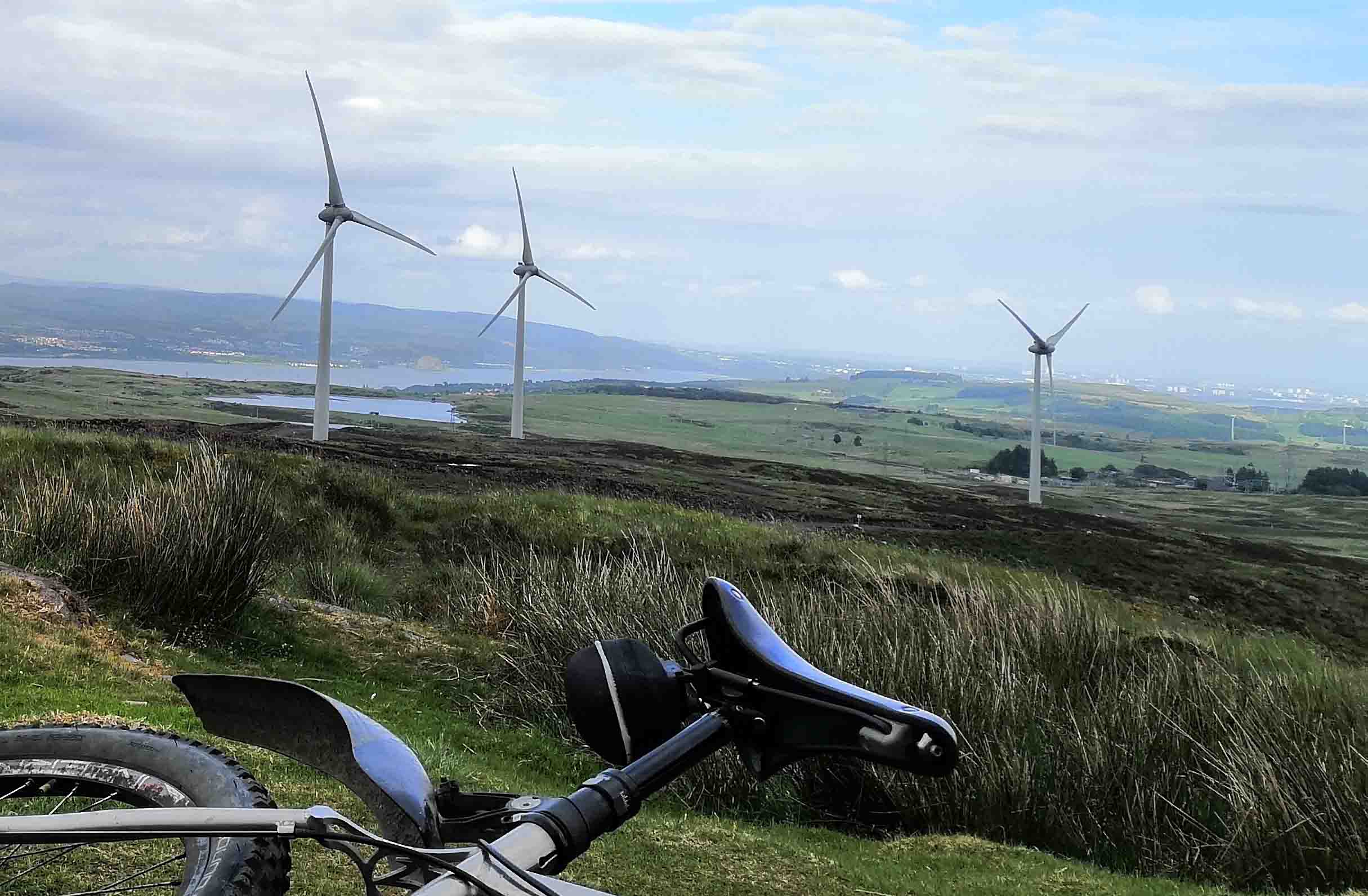 Some people say that renewable energy developments like wind farms spoil the view and will put off tourists who travel to Scotland for its landscapes.
In my role at Scottish Renewables I know that the evidence just doesn't support that view. In fact, our industry supports well-paid, non-seasonal work in remote areas, and in 2017 a study by BiGGAR Economics showed no link between wind farm development and trends in tourism jobs.
In fact, as a further example, in the decade to 2017 Scotland more than tripled its renewable energy capacity alongside a 36% increase in overseas visitor numbers.
My relationship with Corlic Hill caused me to once again reflect on that.
In 2015 Scottish Renewables used outdoors app Strava to do some research which found Scottish renewable energy tracks had helped cyclists and runners clock up more than 13,000 miles in less than four years – the distance from Glasgow to Sydney.
Mike Cantlay, then Chair of VisitScotland, and now Chair of NatureScot, said:
"Scotland has some of the most beautiful scenery in the world and with spectacular paths and trails through our majestic countryside, there are adventures on foot or by bike to be had at every turn."
So people are using wind and hydro tracks to access the outdoors, probably when, like me, they wouldn't be able to otherwise.
Scotland's laws give us tremendous rights to roam – but they don't provide the paths and tracks which so many users of the outdoors need to do so.
In my eyes, rather than being a reason people don't travel to the countryside, these developments are democratising access to it.
Those who care for the world's outdoor spaces are seeking to make them more inclusive: Lake District National Park Chief Executive Richard Leafe, for example, has called for more open access to maintain the area's relevance, saying:
"Our challenge is to see what we can do to … encourage people from broader backgrounds and a wider range of personal mobilities into the national park to be able to benefit in the same way as those other groups do."
To me, as a mountain biker, renewable energy projects are doing that in spades. They're providing the trails and tracks which give newbies the confidence to go off road, and those of us with more miles under our belts the chance to go deeper into the hills.
Gordon MacDougall, Managing Director of BayWa r.e., the company which developed Inverclyde Windfarm, told how open access to the site was part of its long-term plans:
"As engaged and responsible onshore wind developers, we at BayWa.re recognise that we can add value not just in direct terms through the construction industry and our wider supply chain who build our projects but that we can bring much deeper, long-term benefits to the community at large such as the creation of this path network.

"This supports population wellbeing and helps to engage everyone who uses it with renewable energy, which is crucial, as we move ever-closer to realising Scotland's net-zero ambitions through the deployment of more renewables in the next decade and beyond."
So if you see me up Corlic Hill, or on Whitelee's 100-odd kilometres of track, or up at Loch Sloy, do give me a wave. We'll both be there because of renewable energy, and cheers to that.
Blog by Nick Sharpe, Director of Communications and Strategy at Scottish Renewables
Want to comment? Do so via our LinkedIn post.