Renewable Energy Roadshow to bring spirit of COP26 to Scottish communities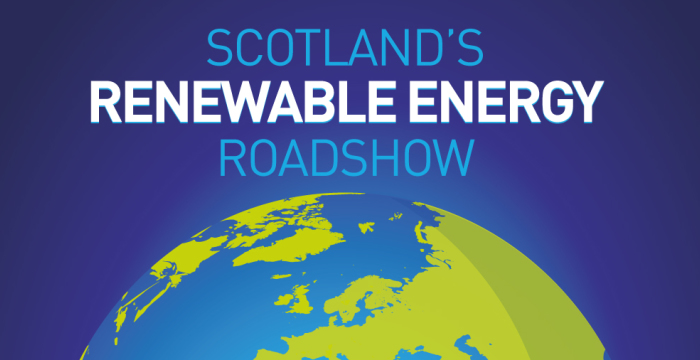 Scotland's Renewable Energy Roadshow will tour the country this summer and highlight the positive impacts renewable energy has on local communities, the economy and the country's fight against climate change.
The interactive Roadshows will inform the public about an industry which contributes £5 billion to Scotland's economy each year as well as about COP26, the United Nations climate change conference which is coming to Glasgow in November.
Locations including Dornoch, the Cromarty Firth, Dumfries, Lochgilphead and Pitlochry will be visited by the events.
Morning activities includes stands at local markets, with technology from local renewable energy projects on show – and experts available to chat to local people.
Roadshow locations will also host invite-only receptions for stakeholders, local representatives and members of Scottish Renewables to discuss the pressing issues surrounding the renewable energy sector and local economies.
The events will be delivered by Scottish Renewables as part of its Year of COP campaign alongside Partners Crown Estate Scotland, EDF Renewables, Kensa Contracting, SSE Renewables & Worley.
Claire Mack, the organisation's Chief Executive, said:
"Scotland is a world leader in renewable energy and has some of the most ambitious climate change targets in the world.

"The renewable energy industry is as a vital part of the country's economy, bringing billions of pounds of investment and supporting thousands of jobs in some of our most remote regions, as well as offsetting billions of tonnes of carbon every year.

"COP26 is a huge opportunity for us to showcase these successes to the rest of the world and show that we have the skills and tools they need to decarbonise their energy systems.

"But it's imperative that our people know how valuable this industry is to Scotland, and Scotland's Renewable Energy Roadshow will show just that, reaching the people in the heart of the communities most involved in delivering meaningful change.

"Our series of events will visit the local communities that are home to innovation-driven businesses which have some of the country's most impressive renewable energy technologies and highlight just how important these are as we work towards net-zero."
The Roadshow dates and locations are:
Dornoch Market (public event): August 11
Port of Nigg (invite-only event): August 27
Lochgilphead Farmers' & Country Market (public event): September 11
Dumfries and Galloway College (invite-only event): September 24
The Dam Visitor Centre, Pitlochry (invite-only event): October 15
Pitlochry Market (public event): October 16
Ends
Notes:​
More information on Scotland's Renewable Energy Roadshow is available on Scottish Renewables' website.
Scottish Renewables' Year of COP campaign is showcasing Scotland's role in the fight against climate change through a series of activities ahead of COP26 being held in Glasgow in November.
Scotland's Renewable Roadshow Partners are Crown Estate Scotland, EDF Renewables, Kensa Contracting, SSE Renewables & Worley.