Snap-happy young Scots make social media stars of country's turbines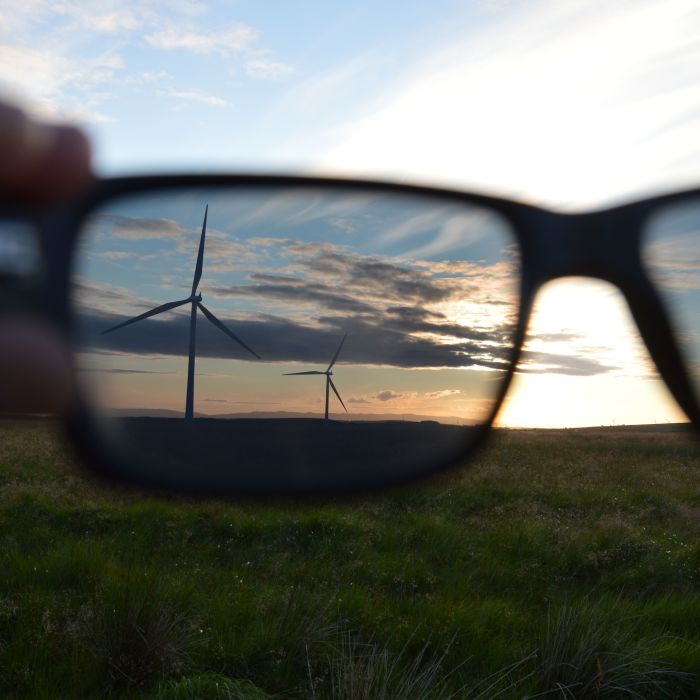 More than a quarter of a million young Scots have taken a picture of a wind turbine while out and about in the Scottish countryside, a new study has found.
Almost half (45%) of 16-24 year olds questioned said they had snapped a picture of a turbine - and three quarters of those (75%) say they did so because they like the way it looked.
Scotland's wind farms are now social media stars, with Whitelee – the country's largest – tagged almost 13,000 times on Instagram.
Pollsters Survation also asked Scottish people aged 16-24 for their views of renewable energy. 90% said they feel renewable energy technologies like wind turbines have a role to play in tackling climate change.
Industry body Scottish Renewables has hailed the results.
Claire Mack, the organisation's Chief Executive, said:
"We already know that concern about the impacts of climate change is rising, and this new research shows the efforts we're taking to tackle it are finding favour, too.

"The UK Government's own figures show us that support for onshore wind power is near an all-time high – figures which were reflected in research carried out specifically in rural Scotland by Scottish Renewables in autumn 2018.

"The young Scots questioned as part of this survey are people who will be most affected by climate change in the near future so it's hugely encouraging that they are so positive about renewable energy's role in tackling its effects before they happen."
The results of this survey, which looked at how young people view renewable energy developments like wind turbines, also found two-thirds (67%) of 16-24-year-olds in Scotland support the use of onshore wind to generate power, with just 7% opposed.
Case Study - Abby Price
City of Glasgow College photography student Abby Pryce, 22, from Glasgow's southside, snapped images of a wind turbine which can be seen from fields near her home.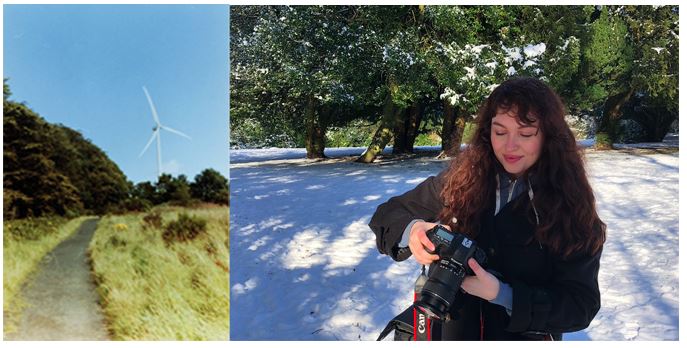 Abby, 22, said:
"These pictures were all taken while I was walking around the fields near my house. The wind turbine is something that can be seen for miles away and is actually a big highlight of my local area. Not only is the wind turbine incredibly interesting in function, but also to photograph. I have always been fascinated by it, and it's something I have always found quite captivating.

"While out walking with my camera I was incredibly drawn to the wind turbine. I find it striking and yet at the same time there is such a calming nature that I found it gave off. It is actually a very beautiful thing in a way as it has an incredibly bold yet peaceful presence."
Instagram: @shot.by.abby
Case Study - Ian Gallacher
Iain Gallacher is one of thousands of visitors to Whitelee Wind Farm near Glasgow.

The 22-year-old student said:
"I took these images while walking around Whitelee Windfarm. I have always been passionate about looking after the environment so I extended this interest into my photographic work.

"The first time I saw a wind turbine I was surprised by how large they were and how small I felt in comparison, but also by how quiet they were. Walking around such a large area with over 200 turbines, I felt hopeful for a future where we can collectively look after the environment and limit the impact we have on the planet."
Instagram: @iaingallacher_photography / www.igphotography.co.uk
Ends


Notes:​
All images in this release can be downloaded for use in relation to this story from this Dropbox folder. Please credit Abby Price and/or Iain Gallacher.
Images of Claire Mack are available via this link.
Fieldwork conducted by Survation between Feb 10-16, 2021. Population sampled: People aged 16 24 living in Scotland. Sample size: 733 respondents.
Research carried out specifically in rural Scotland by Scottish Renewables in autumn 2018 showed almost seven in ten Scots living in rural areas support the use of onshore wind energy.
Research in 2016 found that Whitelee wind farm near Glasgow was the world's most photographed.
UK Government figures on the popularity of renewable energy are available on the BEIS website.