The future's floating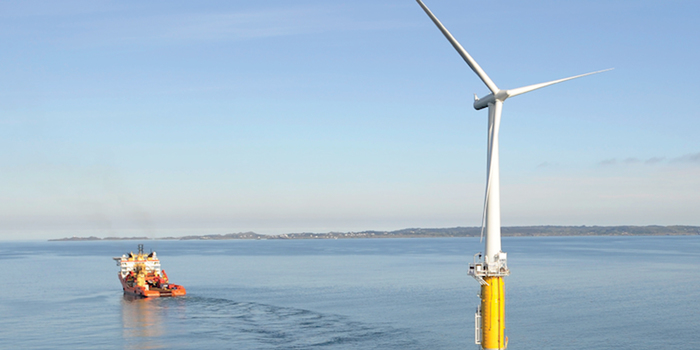 Ahead of Floating Offshore Wind 2020 (7 & 8 October, Online) we look at the global picture for this rapidly-developing technology.
It's now well understood internationally that the UK is a leading market for floating offshore wind.
Scotland is home to the only existing floating offshore wind farms: the 30MW Hywind Scotland project has been operating successfully for almost three years, and the 50MW Kincardine scheme is now under construction off Angus.
From the Prime Minister down, there is strong commitment inside the UK Government to offshore wind, with a clear role for floating offshore wind. In fact, proposals for giving floating offshore wind access to revenue support via the Contracts for Difference regime are now being worked up by civil servants.
Government is now following up with a consultation to help it understand other marine energy technologies, like wave and tidal.
It will be interesting to see what decisions Ministers make about structuring a CfD auction to bring forward not only floating offshore wind, but also other marine energy technologies.
2020 is the UK's busiest year yet in floating offshore wind.
The Erebus project is pressing ahead and has passed a major milestone with a licence from The Crown Estate to build off Pembrokeshire, while in Scotland bids are being prepared for new leases in the live ScotWind Leasing process, through which 10GW of new site capacity is available.
Make no mistake: many of these sites are challenging, meaning either industry continues to push out jacket technology into even deeper waters, or embraces floating. For ScotWind bidding, developers are being asked to give an initial view on expected foundation type, so by early 2021 we will have a clearer view of a likely split between fixed and floating in a new generation of Scottish sites.
A critical factor in UK interest in floating offshore wind is the role the technology could play in delivering net-zero and helping underpin our economy's full energy transition. The Committee on Climate Change projects we need 75GW of offshore wind. That can't be delivered just with shallower sites.
The ScotWind process has catalysed a wealth of discussions between developers looking to bid into the leasing round, and Scottish supply chain companies new and old. Port and fabrication yards across Scotland are in discussion with different developers to scope out construction and assembly options, and developers will need to commit to engagement with a Scottish supply chain.
While there is interest in Scottish companies winning more work in fixed projects, it's clear that the biggest opportunity lies in floating.
Floating is at the very beginning of a period of rapid growth, meaning the time is now right for supply chain companies to make their move into this sector. A race to be the platform provider of choice is underway right now, with an international field expected to deploy through ScotWind. Ports, fabricators, mooring and anchor specialists all stand a chance of winning work in this new sector.
Success in ScotWind will add to pressure on The Crown Estate to look at a Round 5 programme that focuses on the south west of England, and potential floating offshore wind sites there.
Without such a round developers of floating offshore wind will need to follow the route charted by Simply Blue – bidding for rights under TCE's Innovation and Demonstration leasing programme. That limits sites to under 100MW, however, holding back floating when industry is clearly ready to deliver larger more ambitious projects such as those expected under ScotWind.
TCE has been clear that its Round 4 process is designed to be easily repeated, so it will be interesting to see how it responds, particularly if BEIS does bring forward CfD rounds which are able to support larger floating offshore wind schemes.
All this and more will be a part of the discussion at Floating Offshore Wind 2020. We have experts from leading energy companies, government, the supply chain and ports with us to discuss how floating can support us in the race to net zero.
2020 of course marks the first time this event will be virtual. As the UK's largest dedicated floating offshore wind event, we know that ours is the event where industry comes to learn the latest news on floating offshore wind.
Going virtual is an act of necessity, of course, but the opportunity it gives is for us to bring in a wider set of participants from across the globe.
The UK is already the world's biggest offshore wind market.
We want to see it show leadership in growing floating offshore wind.
We expect a global audience will want to come and be part of this conversation.
You should be there too.