The biggest night of the year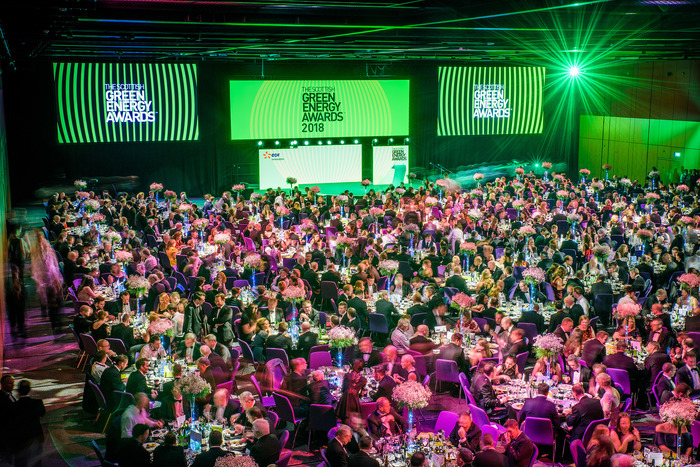 It's now less than a month until the biggest night in the Scottish Renewables calendar and a key point of celebration for our industry.
And 2019's Scottish Green Energy Awards come with plenty to celebrate.
Having reached the milestone of 70% of electricity in Scotland powered by renewables we've seen major investments come to fruition, such as the £2.6bn spend on Beatrice – Scotland's largest-ever renewable electricity generation project.
We've also seen new research showing that as an industry we reach in to 72 countries across the globe, as well as being attractive to new talent, with 13,000 students studying renewables and related topics at Scottish colleges and universities.
We know as an industry that we punch well above our weight in so many areas, and the Scottish Green Energy Awards are the night where we take the stage to make sure that others get to see this too.
This year's nominations have reflected some really interesting trends in our sector and, if we take them as a barometer for what's coming down the track, there are some stand-out points to consider.
The first is the number of heat projects that were nominated.
This demonstrates that this complex issue - one that Scottish Renewables and our heat members have highlighted for many years - is now truly gaining understanding and traction.
Heat is where our world-leading expertise will come into its own. It will require us to accelerate policymaking, investment and deployment at a rate never seen before to achieve our stretching climate change targets.
At this year's Annual Conference Chris Stark left us with the parting words:
"We need a plan for heat"
And that is exactly what we've continued working on since.
Hydrogen has also featured much more significantly in this year's Scottish Green Energy Awards shortlist than in previous years.
Different use cases abound, from building heating and cooling at Aberdeen's new (and hugely impressive) Event Complex to the HyDIME project on Orkney, which powers the world's first hydrogen ferry, and the Glenrothes Energy Network which includes the Hydrogen 100 pilot utilising wind to create hydrogen for use in the gas network reaching around 300 homes.
Another key element of the nominations are some of the project partners.
We have a wealth of incredible expertise amongst our developers, consultants, financiers and the many others who get our projects up and running, but there are other non-industry players in the mix.
Scotland's local authorities are making bold and brave decisions to lead and develop renewable energy projects in their areas.
Councils in Fife, Aberdeen and Dundee are all involved in shortlisted projects which bring together communities, solve problems, save carbon and drive innovative new approaches to power, heat and transport within their local geographies.
We talk a lot about how the next stages of decarbonisation are going to bring us far closer to people and households than ever. Local authorities make perfect partners because of their understanding of local area and place-based needs as well as the innovative, long-term mindset we need as an industry to ensure our projects are the greatest success stories possible.
All of this adds up to a night where we can all hold our heads high and take the applause for the fantastic journey we've come on so far.
We can take a moment to reflect on our success while we pausing to think about how get cracking on the next big milestones in front of us: accelerating the decarbonisation of heat and transport, 50% of all energy from renewables in just 11 years' time and, of course, achieving net-zero emissions by 2045.
Blog by Claire Mack, Chief Executive, Scottish Renewables