89% of supply chain firms say renewable energy is biggest economic opportunity in Scotland, new study finds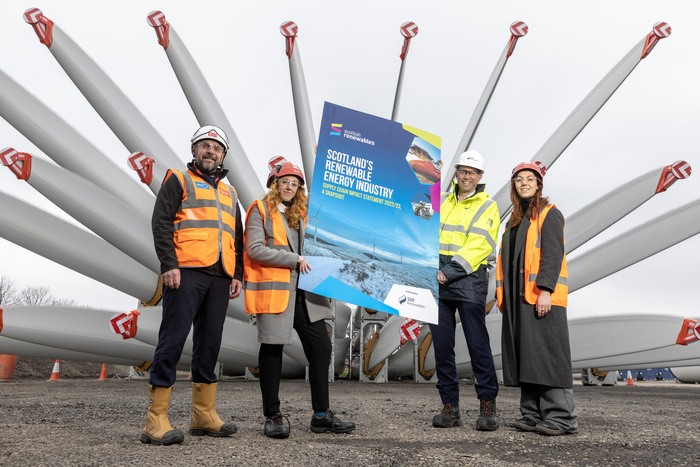 Almost 90% of Scotland's renewable energy supply chain believe renewable energy is the biggest economic opportunity facing Scotland, a study for Scottish Renewables Supply Chain Impact Statement has found.
Scottish Renewables today (April 18) launches the fourth edition of its Supply Chain Impact Statement, an annual showcase of the businesses and organisations working across Scotland's flourishing renewable energy industry.
Supply chain businesses provide products and services which enable renewable energy projects to be built and operated. Examples include the Old Library, a family hotel in the Scottish Borders, Blargoans, a family-run business that provides industrial supplies, transportation, recruitment and PPE, and subsea experts Balmoral.
The Statement highlights how Scotland's supply chain, which stetches from the Borders to the islands, is utilising its expertise, skills and capabilities to deliver specialist work across all renewable energy technologies, including on and offshore wind, solar and energy storage.
Of the 45 organisations featured in this year's Supply Chain Impact Statement:
89% think renewable energy is the largest economic opportunity for Scotland
94% said they have invested in upskilling as a result of clean power opportunities and;
83% said they have recruited new employees as a result of opportunities in the renewable energy industry.
Scottish Renewables is the voice of the renewable energy industry in Scotland and businesses featured in this year's Supply Chain Impact Statement, include:
Dundee-based Ace Aquatec, which develops innovative products in the offshore marine sectors.
Peel Ports Group's King George V Dock, on the river Clyde, which supports the development and ongoing maintenance of onshore wind farms across Scotland.
Dundee-based Coast Renewable Services, which supplies trained personnel to wind farm projects for diagnostic, repair, maintenance, installation and inspection works.
Subsea7's Scottish sites, which have supported more than 3GW of projects including the engineering, procurement, construction and installation of foundation and cable packages on the Beatrice and Seagreen offshore wind farms.
StorTera, of Edinburgh - an energy storage innovator aiming to develop a truly sustainable and low-cost large-scale battery.
Emma Harrick, Head of Energy Transition and Supply Chain at Scottish Renewables, said:
"Scotland's renewable energy supply chain continues to play a vital role in delivering the major infrastructure projects, such as onshore and offshore wind farms, that will help us achieve our net-zero ambitions.

"The Supply Chain Impact Statement gives us a real insight into how project developers are working closely and investing in the local supply chain, from innovative start-ups to established organisations, and how businesses are supporting a renewable energy industry that 89% consider to be the largest economic opportunity in Scotland.

"The businesses and organisations celebrated in the document demonstrate only a small proportion of the complex supplier network required to deploy net-zero technologies and there will be more and more opportunities for our supply chain to grow further as we build more renewable energy projects across Scotland.

"The renewable energy industry in Scotland really is thriving but we can't take our eye off the ball. Both the UK and Scottish Governments must work with industry to build on the successes highlighted in this statement and support the supply chain by investing in the innovation, infrastructure and technology needed to make the most of the opportunities that lie ahead of us.

"Our industry already supports more than 27,000 jobs and is worth £5.6 billion to the Scottish economy. With almost 22,000 undergraduates studying renewables-related subjects it is clear that we are on the road to growing the specialist supply chain we will need to fulfil the future pipeline of renewable energy projects in Scotland."
Support for the Scottish Renewables Supply Chain Impact Statement comes from headline sponsor SSE Renewables and sponsors EDF Renewables and Ocean Winds.
Jamie Maxton, Head of External Affairs at SSE Renewables, said:
"Scotland stands on the cusp of a once in a generation opportunity to put green jobs at the heart of its future economic prosperity - whether it's from our mature onshore wind market, our huge potential pipeline of offshore wind, or the chance to lead the world in the development of floating offshore wind technology.

"Scotland needs green manufacturing jobs and we're working tirelessly to make that happen. As a national renewable energy champion, SSE Renewables is using the strength of our enviable 8GW-plus Scottish offshore construction and development pipeline. Along with partners at University of Strathclyde and National Manufacturing Institute Scotland, we're also at the forefront of grasping the huge opportunities from the circular economy which could generate more than 20,000 jobs by 2035.

"At SSE Renewables, we stand ready to work in collaboration with developers, suppliers and government to deliver the green jobs Scotland needs."
Ends
Notes