Eight rising stars honoured at the Young Professionals Green Energy Awards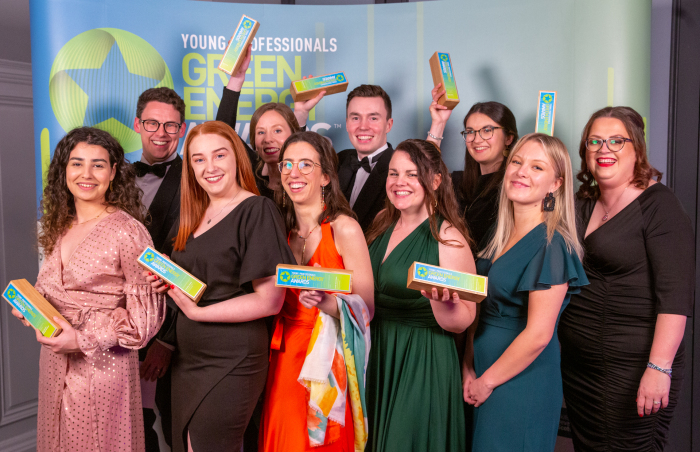 Eight up-and-coming green energy stars have been honoured at last night's (April 28) Young Professionals Green Energy Awards.
Winners include Jillian Henderson from Wave Energy Scotland, who developed a completely new approach to innovation in the wave energy sector by focusing on commercial results, and Lesley Cartwright from Natural Power who successfully transitioned from oil and gas after being made redundant during the sector's downturn.
They join six others in receiving accolades at the 2022 Young Professionals Green Energy Awards, which saw 300 renewable energy professionals come together at the Grand Central Hotel in Glasgow.
Recognition also went to Matthew Dowds from Muirhall Energy, who won the Engineer Award for his creative approach to managing the company's grid portfolio which has seen a growth in grid capacity to more than 1.4GW and savings of tens of millions of pounds.
Caron Oag from the European Marine Energy Centre scooped the Professional Service Award for her work showcasing EMEC and Orkney's hydrogen potential in the media, at online events and by coordinating high-profile visits ahead of COP26.
The winners were selected from a shortlist of 31.
Claire Mack, Chief Executive of Scottish Renewables, the industry body which organises the awards, said:
"It's truly incredible to see the talent pool we have here in Scotland.

"The Young Professionals Green Energy Awards once again highlight the level of skill, innovation, and ambition of those who will be driving the future of our renewable energy sector and the energy transition.

"This level of passion and dedication is exactly what we need as we continue to work towards achieving our net-zero target.

"Congratulations to all the winners, you should be extremely proud of your achievements."
The full list of Young Professionals Green Energy Awards 2022 winners:
Academic Award (sponsored by ETP): Jennifer Howie, ScottishPower Renewables
Analyst Award: Lucia Urra Viana, ScottishPower Renewables
Culture Change Award (sponsored by Stromar): Gender Affinity Network, RES
Engineer Award (sponsored by ESB): Matthew Dowds, Muirhall Energy
Innovator Award (sponsored by Muirhall Energy and WWS Renewables): Jillian Henderson, Wave Energy Scotland
Personal Improvement Award (sponsored by Skills Development Scotland): Lesley Cartwright, Natural Power
Professional Service Award (sponsored by Wave Energy Scotland): Caron Oag, EMEC
Project Development Award (sponsored by Fred. Olsen Renewables): Sarah Tullie, ITPEnergised
The winners of the 2022 Young Professionals Green Energy Awards will go on to compete for the Young and Inspiring Award at the Scottish Green Energy Awards, which will be held later this year.
Ends
Notes:
Professional images from the event are available here.
The Young Professionals Green Energy Awards is sponsored by ETP, ESB, Muirhall Energy and WWS Renewables, Skills Development Scotland, Stromar, Wave Energy Scotland and Fred. Olsen Renewables, and is supported by our official media partner reNews.
Judging for the awards was carried out by a panel made up of representatives of sponsoring companies.